Chocolate Condensed Milk Cake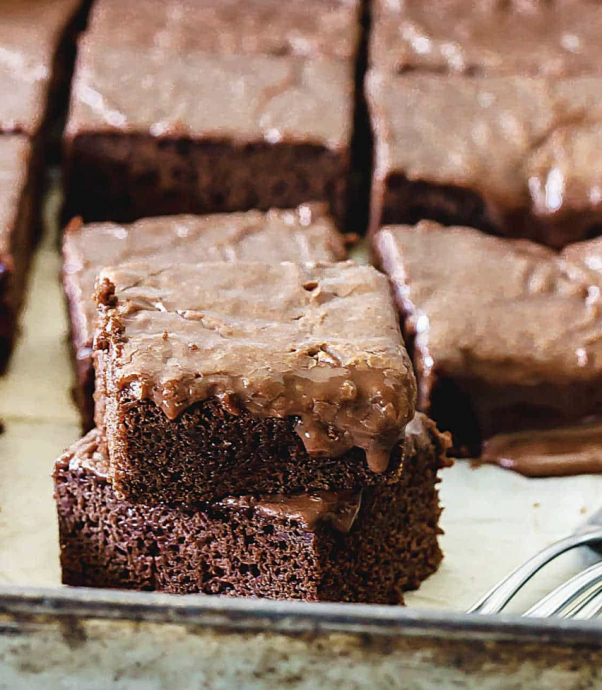 An old-fashioned sheet cake with great chocolate flavor. The top layer is crackly outside but remains gooey and rather soft inside. It keeps well and is perfect for potlucks, casual parties, or when you simply crave chocolate! Have it slightly underbaked for a fudgier experience.
A crowd-pleaser like you wouldn't believe it. Or maybe you would. Some say it's the best chocolate cake I make. That's debatable because, you know, we already have the chocolate bourbon cake in the archives. But still.
It appeals to everyone, comes together really quickly, and has that magic ingredient that is condensed milk. Really people, what recipe isn't great that has condensed milk? I dare you. I can give enough proof with the Margarita Key Lime Pie, the best chocolate fudge EVER, and my favorite Sweet Potato Pie. The proof is in the pudding, definitively.
The frosting alone can be eaten with a spoon, that's how addicting it is.
So let's get on with the recipe.
For the cake:
1 cup unsalted butter
½ cup unsweetened cocoa powder
1 cup of water
2 cups all-purpose flour or cake flour
1 ½ cups firmly packed brown sugar, light or dark
1 teaspoon baking soda
1 teaspoon cinnamon
½ teaspoon salt
1 14-oz can sweetened condensed milk, divided
2 eggs, at room temperature
1 teaspoon vanilla extract
For the frosting:
¼ cup butter
2 tablespoons unsweetened cocoa powder
1 cup powdered sugar (also known as icing sugar or confectioners' sugar)