Mexican Elote Creamed Corn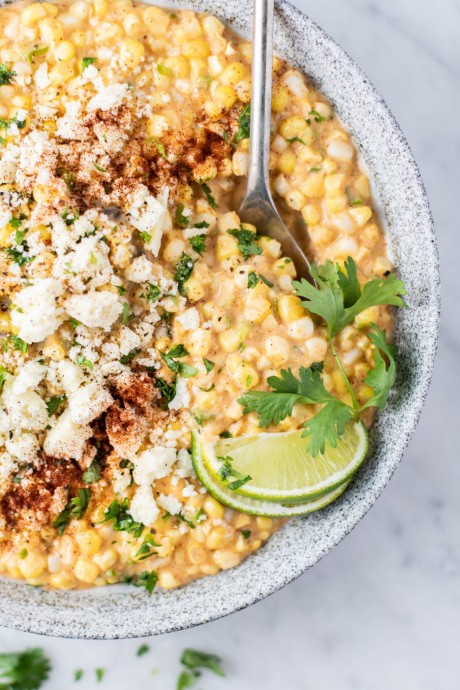 This easy, one-pot creamed corn is a spin on delicious Mexican elote, a popular street food. This dish is creamy and savory with the perfect blend of cheese and spices. I'm here today armed with the perfect end-of-summer dish: Mexican elote creamed corn. It's delicious. It's creamy. It's savory, sweet, and a little spicy. And it's so easy. Elote literally means corn cob, or fresh ear of corn. It refers to the style and preparation of this popular Mexican street food staple.
Elote corn is traditionally prepared by being roasted over an open grill until slightly charred and juicy. Then, it is smothered with butter, salt, chili powder, cotija cheese, lime, cilantro, garlic, and a mixture of mayonnaise, sour cream, and/or Mexican crema. Yes, it's as amazing as it sounds. Perfect for a family dinner!
Ingredients:
2 tablespoons butter
2 cloves garlic, minced
1 jalapeño, seeded and thinly sliced
1 tablespoon flour
½ cup whole milk
½ cup heavy cream
1 pound fresh or frozen (thawed) corn kernels (about 4 cups)
2 teaspoons sugar
¼ teaspoon cumin
¼ teaspoon paprika
½ teaspoon chili powder
¼ cup grated Parmesan
¼ cup chopped fresh cilantro
⅓ cup crumbled cotija cheese
1 lime, cut into 4 wedges
Salt and pepper, to taste