Incredible Caramelized Onion Spinach Chicken Pasta Bake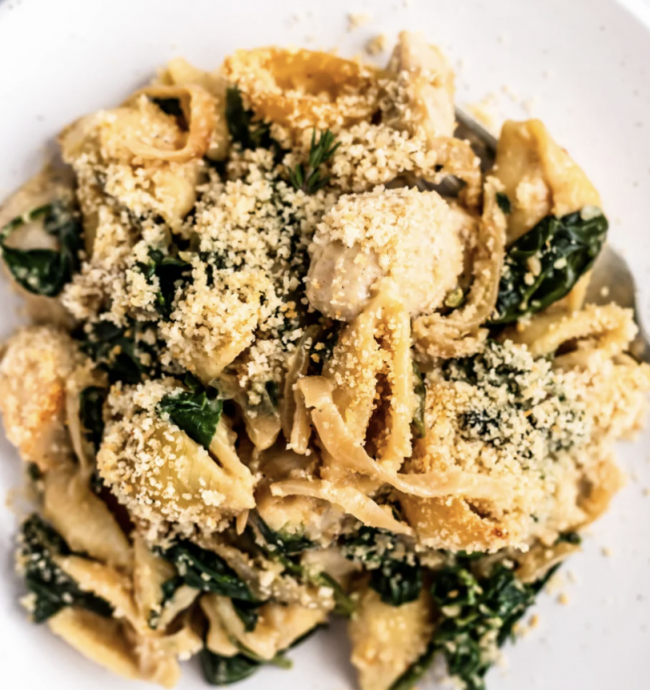 Incredible caramelized onion spinach chicken pasta bake made with two full bags of spinach for extra veggies and a creamy, lightened up parmesan cheese sauce. This protein-packed, healthy chicken pasta bake is the perfect weeknight dinner when you're craving something warm and comforting! Let me tell you about a very special pasta that I recently introduced into my life and has somehow managed to become one of our all time favorite dinners to whip up. It's full of gorgeous shell pasta, tender chicken breast, sweet caramelized onions and nutritious spinach that somehow melts perfectly into a creamy, yet light parmesan cheese sauce.
It's creamy, slightly sweet thanks to those juicy caramelized browned onions, packed with protein and has some pretty awesome lick-your-plate-clean kinda magic flavors happening. I swear I could bathe in the parmesan cheese sauce that soaks up the brown bits at the bottom of the pan from the caramelized onions and chicken.
Ingredients:
For the pasta:
10 ounces dry pasta shells (or use rotini, fusilli, or whatever pasta you'd like -- even gluten free!)
For the chicken:
1 tablespoon olive oil
1 pound boneless skinless chicken breast, diced into ½ inch cubes
½ teaspoon garlic powder
Freshly ground salt and pepper
For the caramelized onions & spinach:
½ tablespoon olive oil (or butter)
1 very large (or 2 medium) yellow onions, sliced
Freshly ground salt and pepper
10-12 ounces fresh spinach
For the parmesan cheese sauce:
2 tablespoons butter
1/4 cup all purpose flour (or whole wheat flour or all purpose gluten free flour)
1 3/4 cup unsweetened almond milk (or cashew milk or regular milk)
½ cup grated parmesan cheese
¾ teaspoon salt
½ teaspoon garlic powder
Freshly ground black pepper
For the topping:
1/2 cup breadcrumbs, gluten free if desired
1 tablespoon butter