Pistachio Cookies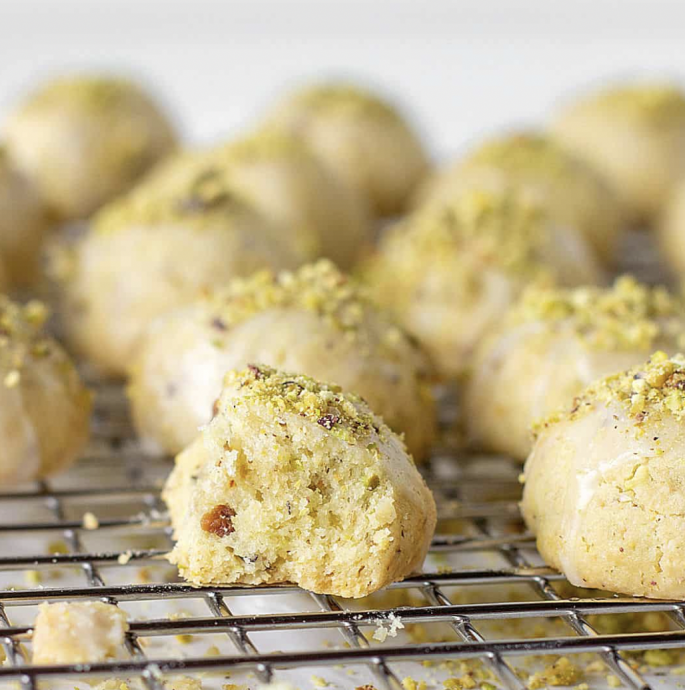 These pistachio butter cookies are laced with lemon and sensationally nutty with a melt-in-your-mouth quality. Roll them in powdered sugar or glaze them, they're always delicious. They keep well and are perfect for gift giving.
These pistachio butter cookies resemble Mexican wedding cookies, snowballs, or Russian tea cakes. They are cousins to the Greek Kourabiedes (which include an egg in the ingredients).
So take your pick of nationality, but do give them a try.
They're traditionally rolled in powdered sugar, but I tried a light lemon glaze, which was fantastic. It helps the cookies stay moist as it encloses them.
When the holidays come around, and we bake cookies to give as gifts, these pistachio snowballs are a must, along with the chocolate peppermint cookies, gingersnaps, and decorated soft sugar cookies.
Ingredients:
For the cookies:
1 cup butter, at room temperature
4 tablespoons (60g) powdered sugar
1 teaspoon lemon zest
¼ teaspoon vanilla extract (optional)
2 cups all-purpose flour
¾ cup ground toasted pistachios
For the coating:
½ cup powdered sugar, for rolling
1 tablespoon lemon juice, if glazing them