Sloppy Joe Dip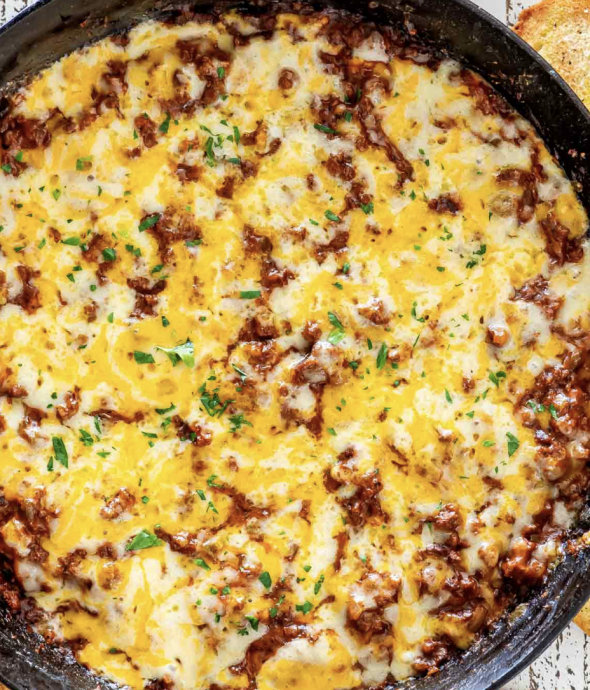 You won't want to miss out on this Sloppy Joe Dip that's got Game Day written all over it. A hot and cheesy ground beef dip that's an irresistible appetizer perfect for any occasion.
This dip is so cheesy and delicious, it's perfect with some toasted baguette slices, tortilla chips, bagel chips or even between buns, just like the regular Sloppy Joes we all know and love.
If you love Sloppy Joes, you'll love this appetizer version. It has all the great flavors you'd expect except it's in a dip form. The biggest difference is the addition of lots of ooey gooey cheese, using both cheddar and Velveeta. This makes for an ideal appy on game day, because it's loaded up with protein, and filling. If anyone goes home hungry, it's their own fault, or make a double batch for an extra large gathering.
Ingredients:
1½ pounds ground beef (extra lean)
1 medium onion (chopped)
1 medium green bell pepper (diced)
3 cloves garlic (minced)
2 tablespoons all-purpose flour
1 cup ketchup
2 tablespoons brown sugar
2 teaspoons yellow mustard
2 teaspoons Worcestershire sauce
1 teaspoon salt (or to taste)
1 teaspoon black pepper (or to taste)
1 cup beef broth (low sodium)
4 ounces velveeta cheese
2 cups cheddar cheese (shredded)