Cranberry Orange Pita Bread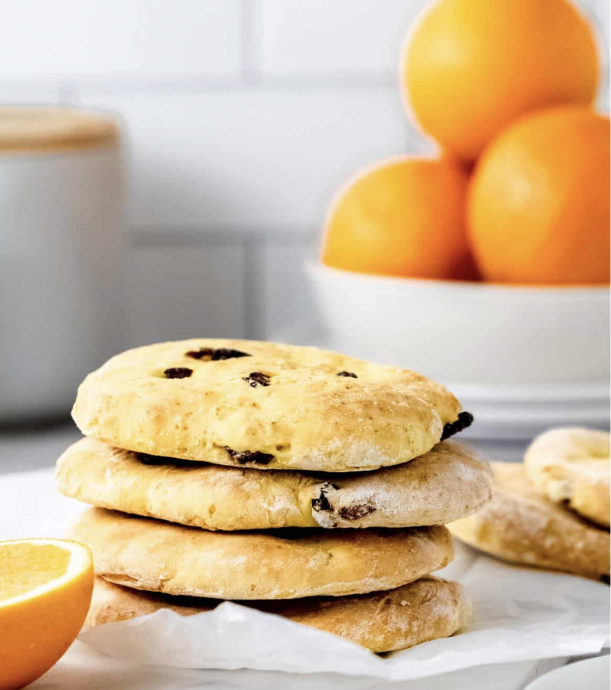 My family loves this recipe for homemade Cranberry Orange Pita Bread. This fluffy gluten-free pita is full of bright, tangy bursts of dried cranberries and warm, sunny citrus! it's a fun and easy way to change up a morning meal or to bring more flavor to a wrap.
Zesty flavors. I just love the bright citrus flavors and pop of sweet-tart cranberries in this bread recipe. It's basically everything we love about a cranberry orange bread loaf but in a foldable, fillable format.
No yeast. There's no yeast to activate and no need for rising time with this bread recipe. It's quick to make with basic ingredients, while still baking up exceptionally light and fluffy.
No more boring toast. Ok, I'm not knocking the convenience of a slice of buttered toast for breakfast. But on days that call for something extra, that's where this cranberry orange pita bread comes in.
Great for the holidays. Two classic Christmas ingredients – cranberries and oranges – get roped into these breakfast pitas. The flavor combo makes them perfect to have on hand throughout the holidays!
Ingredients:
2 Cups Bobs Red Mill 1:1 Gluten Free Flour
¼ cup cornstarch
1 ½ tsp baking powder
½ tsp salt
1 tbsp coconut oil , melted
2 large eggs
1 tbsp orange zest
½ cup orange juice
¼ cup greek yoghurt
1 tbsp honey
¼ cup dried cranberries