Pumpkin Chiffon Pie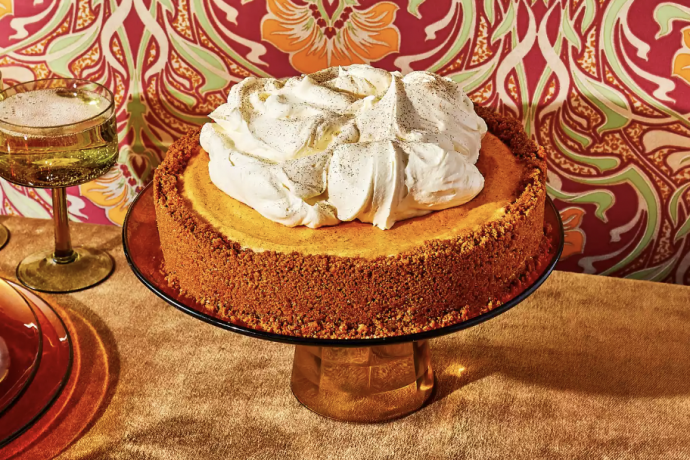 Chiffon pies were invented in 1926 by "Pie King" Monroe Boston Strause out of Los Angeles, CA. This lightweight and airy pie was named by his mother after the fabric of a similarly light texture.
What gives chiffon pie its signature mouthfeel is the aeration of whipped egg whites folded into a thickened cream base. Originally, the thickener was cornstarch but now these pies are usually stabilized with powdered gelatin.
Traditional pumpkin pies are a staple at every holiday table, but if you are like me and want to eat all the pies, this chiffon variation is an excellent lighter alternative so your dessert stomach has more room for the others.
Ingredients
For the Crust:
34 gingersnaps, or enough to yield 2 1/4 cups ground crumbs
3 tablespoons granulated sugar
1/4 teaspoon fine salt
4 tablespoons unsalted butter, melted
For the Filling:
2 3/4 teaspoons unflavored powdered gelatin
3 tablespoons cold water
3 large eggs
3/4 cup granulated sugar, divided
1/4 teaspoon fine salt
1 teaspoon ground cinnamon
1/2 teaspoon ground ginger
1/4 teaspoon ground nutmeg
1/4 teaspoon ground cloves
1/8 teaspoon ground allspice
1/4 cup lowfat buttermilk
1/4 cup heavy cream
1 cup pumpkin puree
For the Stabilized Whipped Cream Topping:
1 teaspoon unflavored powdered gelatin
1 tablespoon cold water
1 cup cold heavy cream
1/4 cup confectioners' sugar, sifted
1 teaspoon vanilla extract