Berry Buttermilk Breakfast Cake With Crumb Topping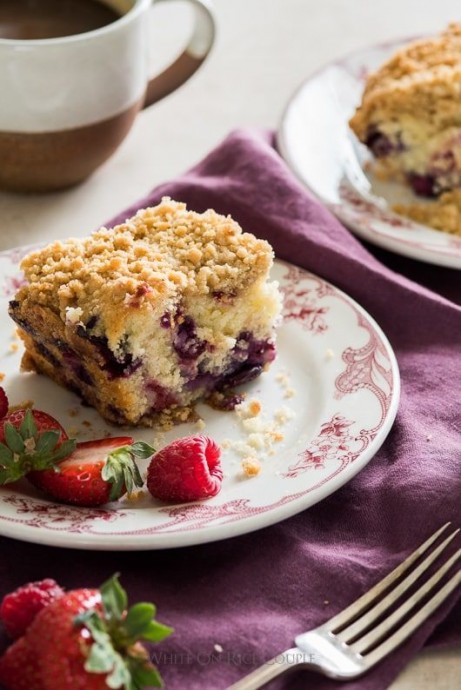 Weekend breakfasts are always a favorite occasion because we can take our time to enjoy the morning. It's also the time of the week that's most leisurely for us with plenty of time to bake in the morning. Settling down with our cappuccino or espresso and some poached eggs is a fantastic breakfast. Sometimes we still crave something sweet with our coffee, but not too sweet. So we created this morning a blueberry buttermilk breakfast cake that fulfills our morning needs.
After making this blueberry buttermilk breakfast cake several times, it's hard to not think of it as the perfect brunch cake, especially for family gatherings. With Holiday brunch, family gatherings and celebration gatherings, berries are always a favorite. Now it is the perfect time to make this cake that is sweetened by the explosion of berry flavors and without all the sugar. The batter is fairly thick. If using soft berries like raspberries, it will break apart the berries when folding it. Super delicious but don't expect whole berries to be baked in unless you hand place them after putting the batter into the baking dish.
Ingredients:
for the breakfast cake
½ cup (114 g) unsalted butter, (1 stick) at room temperature
Zest from 1 large lemon
1 Tablespoon (15 ml) lemon juice
3/4 cup (150 g) granulated sugar
1 large (1 large) egg
1 teaspoon (5 ml) vanilla extract
1 3/4 cup (225 g) flour
2 teaspoons (10 ml) baking powder
1 teaspoon (5 ml) kosher salt
1 1/2 cups (340 g) fresh blueberries (8 ounces) or combination of different berries (approximately - feel free to use more or less)
½ cup (120 g) buttermilk *see note below recipe
Powdered sugar for sprinkling, (optional)
Whipped topping or whipped cream (optional)
Extra berries for topping (optional)
for the crumb topping
1/2 cup (63 g) flour
1/4 cup (55 g) packed brown sugar
1/4 teaspoon (1.25 ml) kosher or sea salt , or to taste
1/4 cup (57 g) cold unsalted butter , cut into 1/2-inch (12-mm) pieces