Creamy White Chicken Lasagna Soup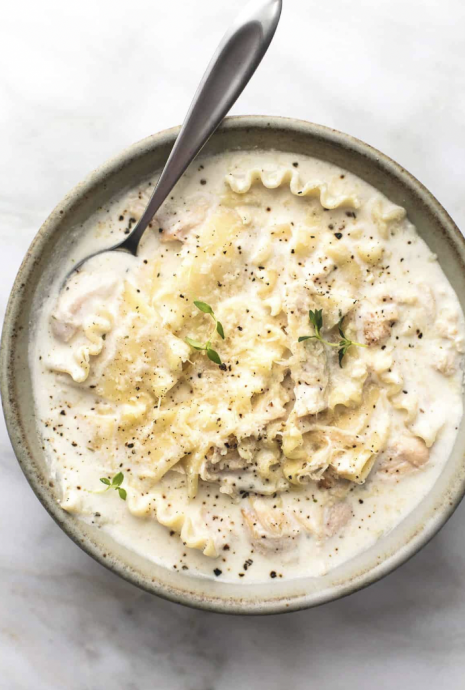 Rich and Creamy White Chicken Lasagna Soup comes together in just 30 minutes to make a comforting soup you'll crave all year long.
I absolutely never get sick of soups. Even in the throws of Summer when it's blazing hot outside I still crave a bowl of soup on a regular basis. This is one of my new favorites and I already know I'll be making this for the rest of the year.
This soup is rich, creamy, and comes together in about 30 minutes. Everything I want in a quick weeknight dinner! The best part is that it's a soup version of a pasta dish I just can't get enough of. I'm rarely a fan of traditional ground beef and red sauce lasagna but white chicken lasagna is right up my alley.
Ingredients:
1 pound boneless skinless chicken breasts - cut into 1-inch pieces
2 tablespoons oil
4 tablespoons butter
3 teaspoons minced garlic
4 tablespoons flour
1 ½ teaspoons onion powder
1 teaspoon garlic powder
2 cups chicken broth
6 cups fat free or regular half and half - see note
1 teaspoon salt - or to taste
½ teaspoon black pepper - or to taste
2 ½ teaspoons Italian seasoning blend - see note for substitution
4 ounces cream cheese - at room temperature
1 cup shredded parmesan cheese
chopped fresh thyme or parsley for garnish
8 lasagna noodles, broken into 2-inch pieces and cooked til tender