Caramel Apple Monkey Bread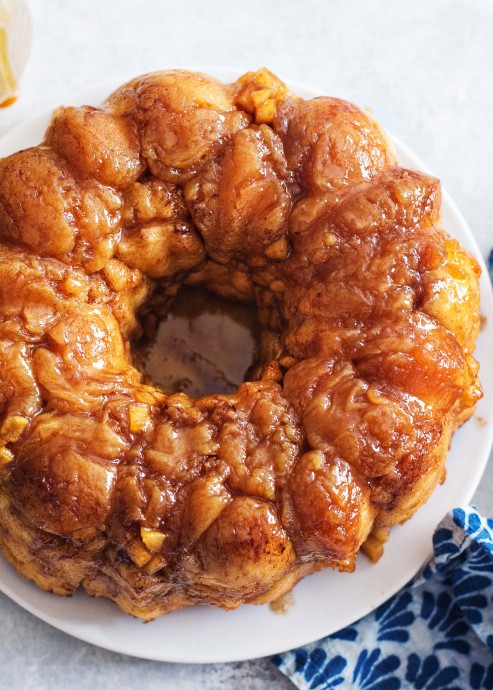 In the category of "Not Terribly Beautiful Baked Goods That Taste Amazing," this Caramel Apple Monkey Bread is a clear winner! No, this may not the prettiest dessert in the galaxy, but what it lacks in presentation, it more than makes up for in sticky, gooey, pull-apart deliciousness. Many recipes for monkey bread use with biscuit dough for the base. But while I have zero issues with biscuit dough, in my imagination monkey bread is always a yeasted affair.
Specifically, pillowy balls of dough spackled together with plenty of sticky cinnamon-sugar. I use an enriched yeast dough, meaning one made with milk and butter so it's extra decadent. It can be left to rise on the counter for an hour before shaping and baking, OR you can pop it into the refrigerator for a slow, overnight rise. What really takes this monkey bread to the next level are the cinnamon-spiced apples layered between the pieces of dough and the apple cider caramel sauce that gets drizzled over everything. The result is a golden tear-and-share bread loaded with bits of tender spiced apples and lots of gooey caramel. This bread is best the day it's made, so be sure to invite some friends over to help you eat it!
Caramel Apple Monkey Bread! This pull-apart loaf is layered with fresh apples and drizzled with an apple cider caramel. The dough can be made ahead.
Ingredients:
For the dough
1 1/4 cups (237 mL) whole milk, warmed (not hot)
2 teaspoons active dry or instant yeast
1/4 cup (50 grams) sugar, divided
4 cups (560 grams) all-purpose flour
1 1/2 teaspoons kosher salt
3 tablespoons (42 grams) unsalted butter, melted
For the apples
1 tablespoon (14 grams) unsalted butter
1 medium sweet-tart apple, peeled and diced (about 1 1/2 cups; I used honeycrisp)
1/4 teaspoon ground cinnamon
Pinch kosher salt
For the caramel sauce
1 cup (200 grams) sugar
1/2 cup + 2 tablespoons (118 mL) apple cider, divided
2 tablespoons (28g) unsalted butter
1/2 teaspoon salt
2 tablespoons heavy cream
To assemble
1/2 cup (56 grams) unsalted butter
1 cup (200 grams) sugar
1 1/2 teaspoons ground cinnamon