Feta And Ricotta Cheese With Spinach And Dill Filo Wraps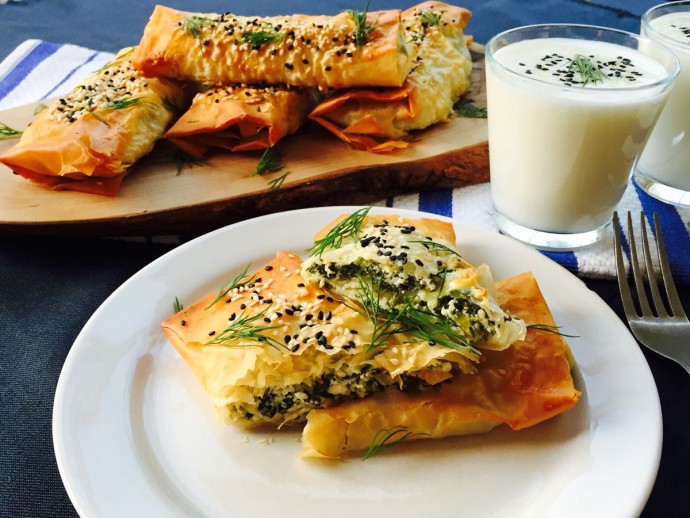 Spinach and Ricotta Cheese Wraps is a Middle Eastern dish of Turkish origin. Great for a take along lunch or vegetarian dinner, it needs only 20 minutes of hands on time and simple ingredients. They are made with Phyllo (filo) pastry sheets that are simply made up of flour, water and oil. You can nowadays find gluten-free Filo here in the UK but wherever you are in the world it is worth checking as I am sure you will be able to find some. The pastry in this recipe isn't a homemade one since this takes proper time, so much patience and not to mention the amount of skill to produce something like that resembling a thin sheet of paper. It's not easy!
In Turkey, where this recipe originates from, people like to have it along with a glass of Turkish tea, and it is mainly served for breakfast. It is pretty filling so this would be perfect for a lunch and served with a nice leafy salad which could be even a fresh spinach salad. More spinach! Oh yes, the more the merrier. The beauty about this filo wraps is that it could be made vegan, by replacing the meat with mushrooms and the vegan filo pastry, vegetarian or can be made with meat, so it is pretty versatile.
This filo pastry wraps contain feta and ricotta cheese, spinach and/or dill. A truly delightful appetizer or a main dish served with a nice refreshing glass of kefir. Deliciousness.
Ingredients:
250 g feta cheese made into crumbs
200 g ricotta cheese
350 g fresh spinach washed and roughly chopped
12 sheets Filo pastry
1 pinch freshly ground black pepper
2 tbsp Sesame seeds I used black and white
4-5 sprigs fresh dill
1/2 tsp salt
1 egg to egg wash
1 small onion (optional)
If you want them moist:
1 egg
2-3 tbsp yogurt full fat
50 ml milk
For crispy fillo:
3-4 tbs olive oil or butter