Red Velvet Cheesecake Cake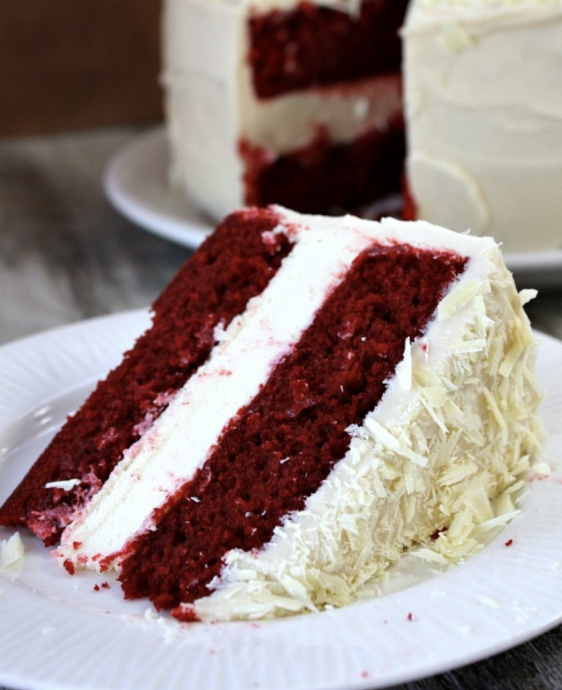 This Red Velvet Cheesecake Cake is my family's favorite cake recipe ever.
It really is the most beautiful cake to bake for special occasions. It's impressive looking, and it's always well received by your guests. It's delicious too!
It starts with a half-recipe for classic cheesecake, baked in a water bath (details in the recipe below). The red velvet cake is made in two 9-inch-rounds- made nice and flat and even on top with the aide of cake strips.
Ingredients:
CHEESECAKE:
Two 8-ounce packages cream cheese, at room temperature
⅔ cup granulated white sugar
pinch of salt
2 large eggs
⅓ cup sour cream
⅓ cup heavy whipping cream
1 teaspoon vanilla extract
RED VELVET CAKE:
2½ cups all purpose flour
1½ cups granulated white sugar
2 tablespoons unsweetened cocoa powder
1½ teaspoons baking soda
1 teaspoon salt
2 large eggs, at room temperature
1½ cups vegetable or canola oil
1 cup buttermilk
¼ cup (two 1-ounce bottles) red food coloring
2 teaspoons vanilla extract
2 teaspoons white vinegar
CREAM CHEESE FROSTING:
2½ cups powdered sugar, sifted to remove lumps
Two 8-ounce packages cream cheese, at room temperature
½ cup (1 stick) unsalted butter, at room temperature
1 tablespoon vanilla extract