Beef Barley Soup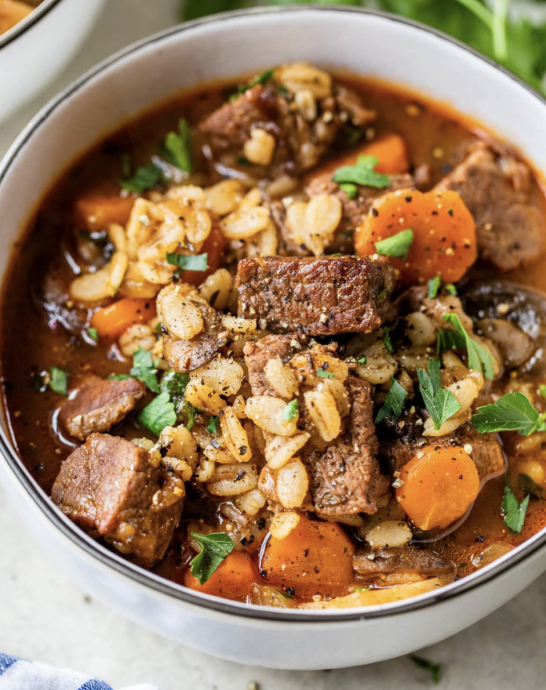 Beef Barley Soup is dinner at its most earnest. Fall-apart tender beef, root vegetables, and nutty barley slow-simmered in a rich tomato-based sauce, it's hearty, stretches to feed a crowd, and is the sort of no-fuss dinner meant for a night of cozy conversation.
This humble soup is just the sort of recipe for a laid-back evening with people you love.
Like all great beef soup recipes it does require some up-front vegetable chopping and batch searing, but the rewards of it simmering gently on the stove, then warming your belly are well worth it.
Save this recipe for a chilly day.
Winter isn't done, and mushroom beef barley soup makes that so much more bearable.
Ingredients:
2 pounds boneless chuck roast
1 ½ teaspoons kosher salt
1 teaspoon ground black pepper divided
1 medium yellow onion
4 celery stalks
4 carrots
2 parsnips
3 garlic cloves
16 ounces sliced baby bella mushrooms
2 tablespoons extra virgin olive oil
2 tablespoons tomato paste
1 tablespoon Worcestershire sauce
2 teaspoons smoked paprika
1 teaspoon dried thyme
8 cups beef stock or chicken stock
2 bay leaves
1 cup pearled barley
2 teaspoons red wine vinegar
1/2 cup chopped fresh parsley