Whole Grain Apple Cake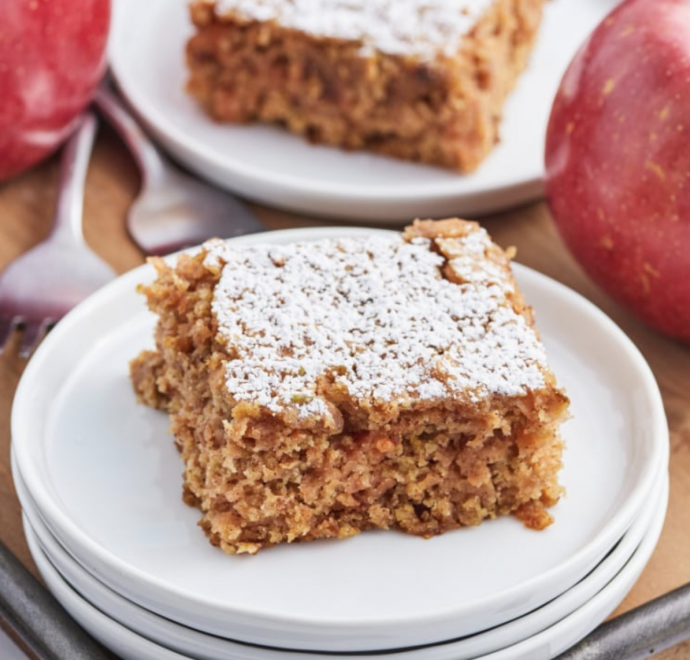 This Whole Grain Apple Cake is a healthier (delicious) option for fall baking.
When you're craving something a little sweet, but you don't want anything over-the-top, crazy-sweet, then this whole grain apple cake is the sweet treat to bake! It's a sweet cake with plenty of sugar and warm fall spices, but it doesn't have a lot of fat in it. A light dusting of powdered sugar on top instead of a thick-layer of frosting makes it more like a snack cake than a dessert.
The complete, printable recipe is at the end of this post.
Preheat the oven to 350 degrees F. Spray a 13×9 inch pyrex pan with nonstick spray, and set aside.
In large mixing bowl, combine the sugars, oil and egg whites. Beat with a wooden spoon until well blended. Add the flours, oat bran, baking soda, and spices. Stir just until moistened. Gently stir in the shredded apples.
Spread the batter evenly into the prepared pan. Bake for 25 to 30 minutes, or until a toothpick inserted into the center comes out clean. Cool.
Ingredients:
⅔ cup granulated white sugar
½ cup packed brown sugar
¼ cup vegetable or canola oil
3 large egg whites
⅔ cup all purpose flour
⅔ cup whole wheat flour
½ cup oat bran
1½ teaspoons baking soda
1 teaspoon ground cinnamon
¼ teaspoon ground allspice or nutmeg
3 cups shredded, unpeeled apples
powdered sugar (if desired)