Chicken Cacciatore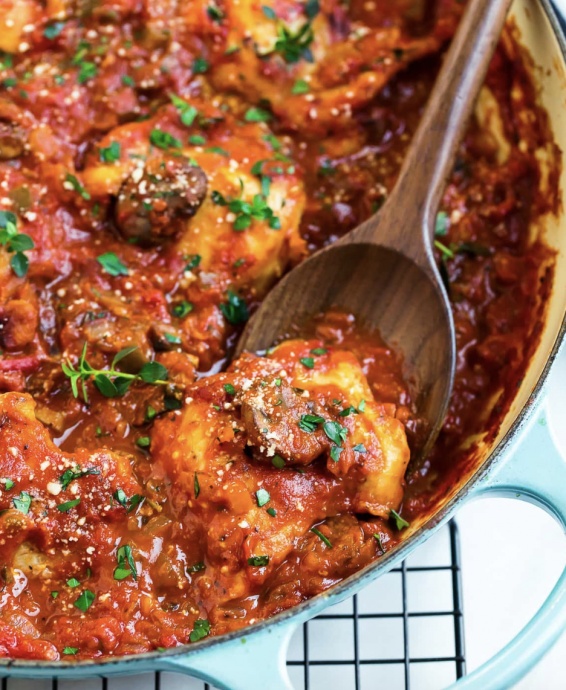 Want to head to an Italian restaurant (or better yet, an Italian grandmother's kitchen) for dinner tonight? Try this Chicken Cacciatore!
Cacciatore (pronounced Kah-Chuh-Taw-Ree) means "hunter" in Italian.
Thus, chicken cacciatore means chicken that is prepared alla cacciatore or "hunter-style."
It's a rustic stew-like dish (like France's Beef Bourguignon) made with slow-simmered chicken (or rabbit), tomatoes, seasonal vegetables, and a splash of wine or vinegar.
You'll find as many recipes for chicken cacciatore on the internet these days as there are Italian grandmothers who make them.
What they all share in common, however, is a richly flavored sauce, tender chicken, and copious amounts of love and care cooked into every recipe.
Ingredients:
FOR THE CHICKEN CACCIATORE:
3 tablespoons extra-virgin olive oil divided
2 pounds boneless skinless chicken thighs
1 teaspoon kosher salt
1/2 teaspoon black pepper
1 medium yellow onion chopped
1 medium green bell pepper chopped
3 cloves garlic minced
3/4 cup dry white wine or low sodium chicken broth
1 28 ounce can crushed tomatoes
8 ounces sliced baby bella (cremini) mushrooms
2 teaspoons Italian seasoning
1/2 tablespoon balsamic vinegar
FOR SERVING:
Whole wheat pasta or brown rice, polenta, rice, zucchini noodles, or baked and shredded spaghetti squash
Chopped fresh parsley or basil
Freshly grated Parmesan cheese