Dump-and-Bake Cranberry Chicken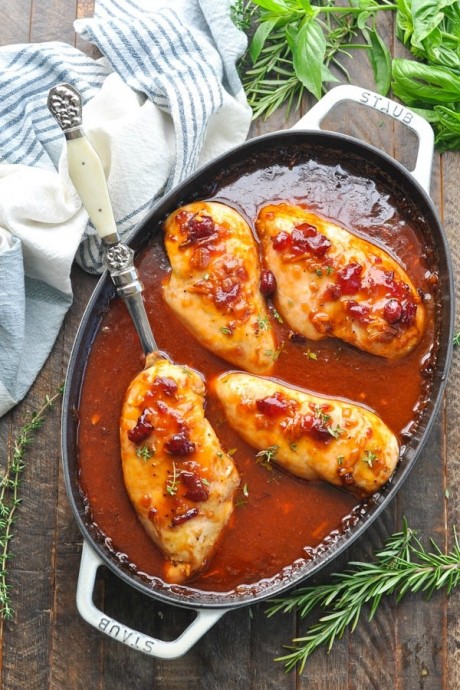 The most tender, juicy and flavorful baked chicken breasts! This 5-ingredient Dump-and-Bake Cranberry Chicken is a cozy, easy dinner recipe that's perfect for cool nights or festive dinner.
You only need 10 minutes (at most!) to throw together this baked chicken dinner that's basted in a sweet-and-savory cranberry glaze. With hints of bright orange zest, tart cranberries and zesty onion seasoning, you won't believe how complex this simple recipe tastes! I used a can of whole berry cranberry sauce for convenience, but this would also be a perfect way to use up any leftover homemade cranberry sauce that you might have from the holidays.
This dish pairs nicely with just about any vegetable and starch. Here are a few easy side dishes that go well with the cranberry chicken: Rice, egg noodles, crusty French bread, or Garlic Mashed Potatoes. 3-Ingredient Homemade Breadsticks, Crispy Seasoned Oven Roasted Potatoes, Southern Collard Greens, Easy Broccoli Casserole, Oven Roasted Asparagus or any veggies you like. Instead of the boneless, skinless chicken breasts, substitute with about 3 pounds of boneless, skinless chicken thighs. The thighs will cook faster than the breasts, so remove the cover after about 15-20 minutes before continuing to bake for the final 15 minutes.
Ingredients:
4 boneless, skinless chicken breasts (about 3 lbs. total)
8 ounces (about 1 cup) French, Russian or Catalina salad dressing
1 (14 ounce) can whole berry cranberry sauce
1 (1 ounce) packet dry onion soup mix seasoning
Zest from ½ of an orange