Bacon-Wrapped Water Chestnuts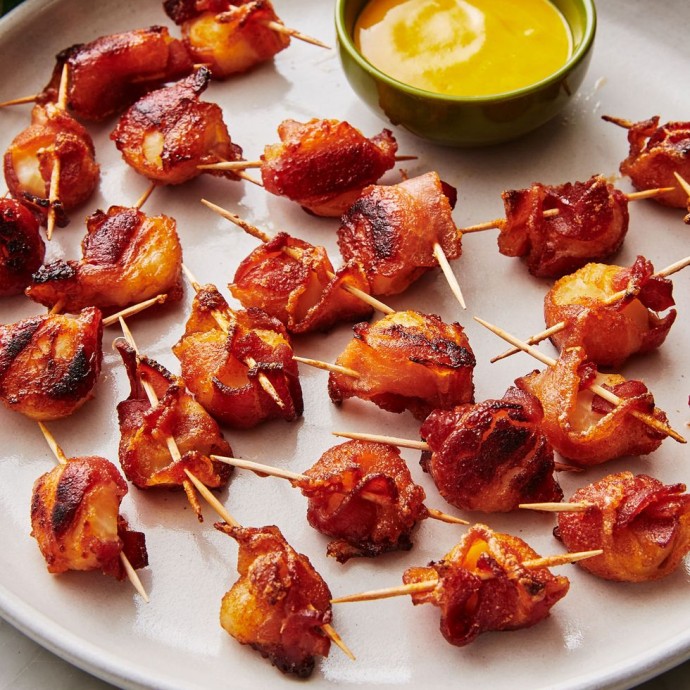 The holidays around the house just wouldn't be the same without these classic wraps. Through the years, Christmas Eve guests have proven it's impossible to eat just one. A dinner party mainstay for years, bacon-wrapped water chestnuts are the perfect one-bite snack.
Sticky, crisp, and crunchy, with the neutral flavor of the water chestnut soaking up the sweetness of the syrup and brown sugar and the savory notes of the garlic powder, herbs, and spices, these are a surefire winner. Go wild with the dipping sauces; we suggest honey-mustard, but really, anything would work! This Bacon Wrapped Water Chestnuts recipe is perfect because not only do you get bacon, but it's wrapped around crunchy, soy-soaked water chestnuts, and it tastes so amazing! It's definitely a lighter, fresher taste than the bacon wrapped tater tots I made (another amazing bacon wrapped appetizer), so it's a great thing to add to the appetizer list for the Christmas Eve.
Ingredients:
32 water chestnuts
8 slices bacon, cut into quarters
3 tbsp. maple syrup
2 tbsp. packed brown sugar
1/4 tsp. smoked paprika
1/4 tsp. ground cumin
1/4 tsp. garlic powder
Honey mustard, for serving