Seasonal Kitchen: Pasta All'Arrabbiata with Fresh Tomatoes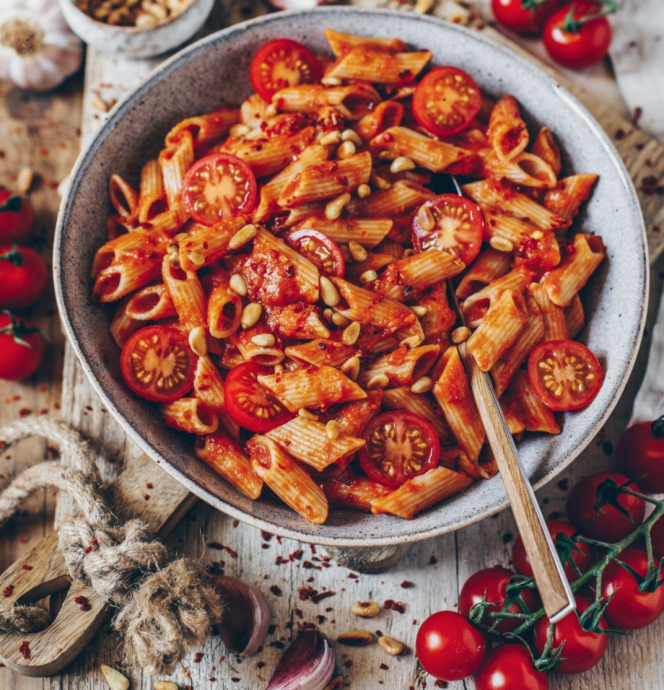 Pasta all'Arrabbiata has long been one of my favorite dishes. For me, there is almost nothing better than pasta with a tasty, spicy, fruity tomato juice, especially in summer, when tomatoes are in season - fresh and delicious. It's a perfect meal if you're short in time or just don't want to spend hours in the kitchen.
Ingredients
80 ml extra virgin olive oil
½ small onion, very finely sliced
A bit of garlic (optional)
1 kg ripe plum tomatoes, peeled, seeded, and cut into chunks
Salt
½ teaspoon hot red pepper flakes
600 g pounds penne or other type of pasta you like
100 g pine nuts
Directions
Step 1
In a large skillet, heat the olive oil over moderate heat. Add the onion and cook, stirring, until soft and translucent, 3 to 5 minutes.
Step 2
Add the tomatoes, season with salt to taste, and add the hot pepper flakes. Cook over brisk heat until the sauce has thickened, mashing the tomatoes with the back of a wooden spoon, about 15 to 20 minutes.
Step 3
Cook the penne in a large pot of salted boiling water until it is al dente. Drain, mix rapidly with the hot sauce, add pine nuts and serve at once.
If tomatoes are not really flavorful, add a teaspoon or two of good tomato paste to them. It will heighten the taste. As a topping I like to add some fresh halved cherry tomatoes. I always pay attention to the quality of tomatoes, and recommend buying organic sun-ripped tomatoes. Besides tomatoes, roasted onions and garlic are also important ingredients (be careful, garlic may cause allergy).
Tips: use your favorite seasoning on top, I prefer special Arrabbiata spice.
If you prefer a creamy sauce, you can add some coconut milk at the end.
And do you like pasta? Let me know!
Bon Appétit!