Roasted Beef Tenderloin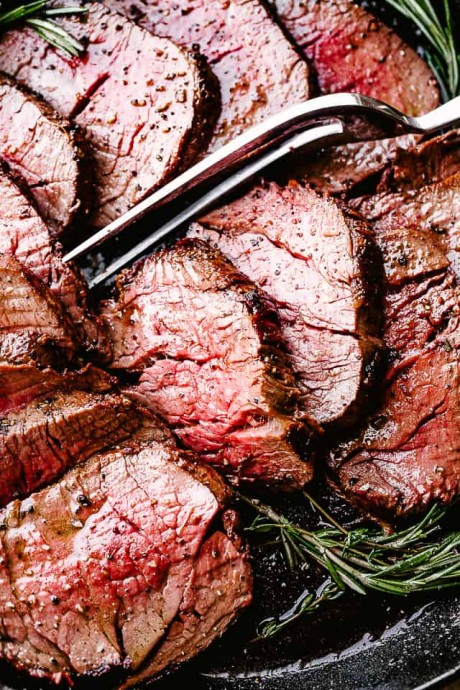 Want to make a big impression at your next fancy dinner gathering?! Well, then, let's do it! Beef tenderloin is the classic choice for a special main dish. Effortless, perfect, juicy, and melt-in-your-mouth-delicious roasted beef tenderloin is the only recipe you'll need this Holiday Season. Whole-roasted beef tenderloin is a once-a-year celebratory dish that can be fantastic if done properly. Beef Tenderloin is the most tender cut of beef. It's cut from the loin of a cow, and when cut into steaks, it is what we know as "filet mignon". There is not a lot of fat in the tenderloin, which makes it a lean cut of meat. When cooked properly tenderloin will literally melt in your mouth!
This tried and true method yields a beautifully browned crust with tender and juicy center. Rosemary and garlic flavored beef tenderloin makes a fantastic main dish recipe for all your Holiday parties! Coat a center-cut Tenderloin in herbs and spices, roast and serve with a colorful red-pepper-and-green-bean rice blend. This no-fuss recipe makes juicy beef tenderloin that melts in your mouth! Total cooking time for beef tenderloin for searing and roasting is therefore about 40 minutes. You'll also want to let your tenderloin rest for 10-15 minutes, which allows all the juices to settle. Resting time helps make your tenderloin incredibly tender and juicy!
Ingredients:
1 (4-pound) trimmed center-cut beef tenderloin
1/2 tablespoon olive oil
2 teaspoons salt
1-1/2 teaspoons fresh ground pepper
6 cloves garlic, minced
1 to 2 tablespoons fresh rosemary leaves, chopped
Kitchen Twine
1 tablespoon vegetable oil