Crispy Coconut Chicken Tenders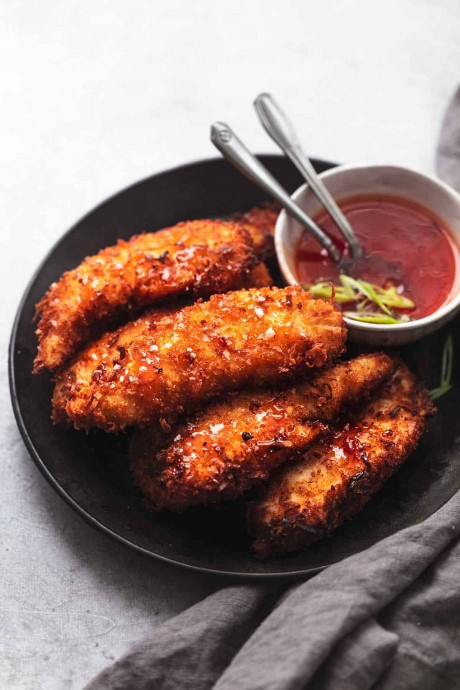 Sweet 'n crispy coconut chicken tenders. What's not to love in a chicken tender that's sprinkled in chili powder then covered in sweet coconut flakes and panko before being fried (or baked!)? So juicy, so tender, so mouthwateringly delicious!
Not only delicious, but so easy to make too!
Did you know you can actually just go ahead and purchase chicken tenderloins at the grocery, already cut up and ready to dredge and fry? That's right! And if you want to cut them yourself, you can just slice some boneless, skinless chicken breasts into strips.
From panko to coconut flakes, just about all of the ingredients for these chicken tenders can be found and/or stored easily in your pantry or fridge, which means you can make these over and over again without having to go to the store all the time. These coconut chicken tenders refrigerate really well and make excellent leftovers, whether eaten cold right out of the fridge or warmed up. Chicken tenders are easy on the budget, especially if you purchase the tenderloins already cut up and packaged, I always see such great deals on those!
Ingredients:
1 pound chicken tenderloins or chicken breasts, cut into strips
1/2 cup flour
1/2 teaspoon chili powder
1/2 teaspoon salt
1/4 teaspoon pepper
2 eggs
2 tablespoons water or milk or milk
2/3 cup shredded sweetened coconut flakes
2/3 cup panko bread crumbs
oil for frying see notes for alternate baking method
sea salt flakes for garnish, optional
sweet chili sauce for serving