Bacon Wrapped Shrimp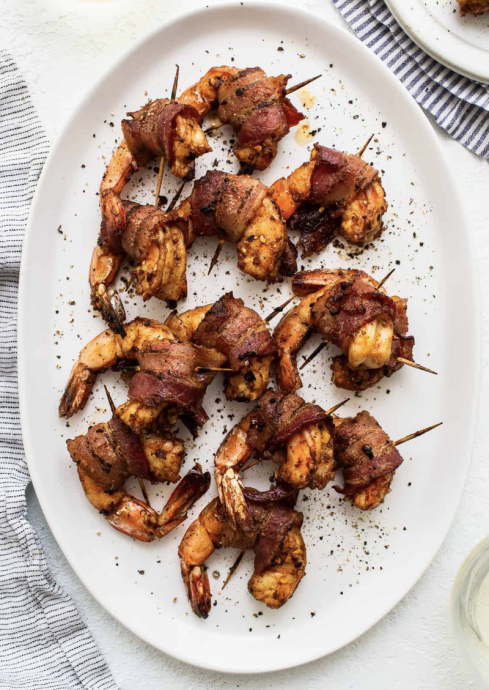 Looking for the perfect appetizer for your next get together? This bacon wrapped shrimp is it! They're incredibly juicy, smokey, savory, and super easy to make.
Picture this: juicy shrimp marinated in a zesty, lemony, garlic, and honey mustard sauce wrapped in deliciously crispy, smokey bacon. I don't know about you, but I am already drooling.
What we love about this easy bacon wrapped shrimp is that it takes minimal prep and needs only 20 minutes to cook. It's great for meal prep or as a simple party appetizer that'll please any crowd!
Ingredients:
1 tablespoon fresh lemon juice
2 tablespoons olive oil
5 cloves garlic minced
1 teaspoon stone ground mustard
1 teaspoon honey
½ teaspoon coarse sea salt
1 teaspoon chili powder
½ teaspoon red pepper flakes
½ teaspoon paprika
14 extra jumbo raw shrimp tail on, peeled and deveined
14 pieces of thin raw bacon, cut in half
½ teaspoon freshly ground pepper