Beef Short Ribs & Gravy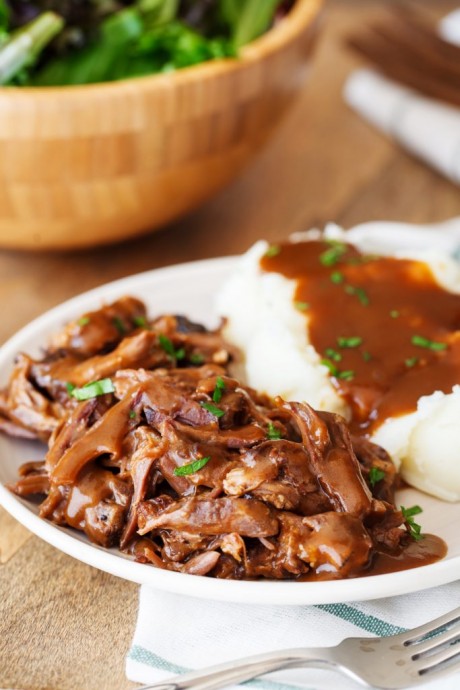 Scrumptious, melt-in-your-mouth Beef Short Ribs & Gravy take some time, but everything that's worthwhile takes a little time. The ribs cook slowly in the oven to yield some of the most tender meat you will ever taste. The gravy is made from the meat's drippings, producing an incredibly savory, smooth, and thick sauce that you will basically be drinking. No kidding, you will want to lick the plate. Go for it, no judgment here! The trick to making this short ribs recipe amazing is that we braise the meat to perfection. The true beauty behind this process is that it takes a less-tender cut of meat (short ribs in this case) and turns it into a fork-tender dish.
The key is to brown the beef short ribs to a perfect golden brown and then slow cook them in liquid over low heat for several hours. I know you will be tempted, but don't lift the lid while the meat is cooking. This releases precious heat and moisture and can elongate the cooking process. Enjoy these beef short ribs and gravy with mashed potatoes, rice, and even sandwiched between rolls!
Ingredients:
3 tablespoons olive oil
8 meaty beef short ribs
3 cups semi-circle slices of onions 1/4-inch thick
4 tablespoons tomato paste
10 ounces dark ale or stout beer
3 sprigs fresh thyme left on the stem
3 sprigs flat leaf parsley left on the stems
1 1/2 quarts vegetable stock
1 tablespoon Worcestershire sauce
1/4 cup 1/2 stick unsalted butter
1/4 cup plus 2 tablespoons all-purpose flour
Salt and pepper to taste