Banana Nut Butter with Cacao Nibs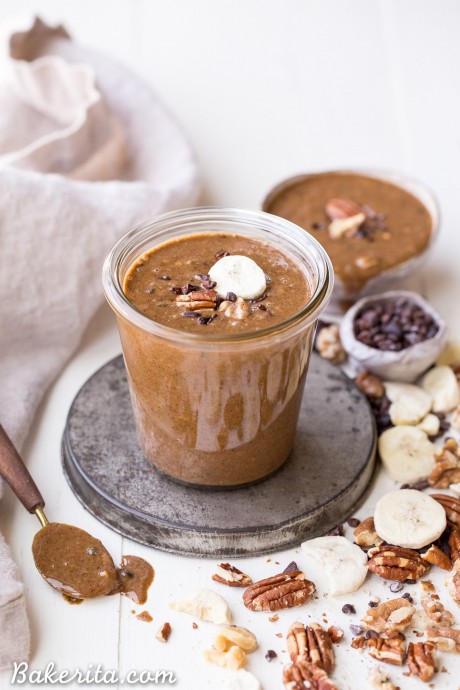 This Banana Nut Butter with Cacao Nibs is a sweet spreadable treat made with pecans and walnuts, and crunchy cacao nibs in every bite! This sugar-free nut butter is paleo, vegan, and Whole30-friendly – you'll want to spread it on everything. If you're already making your own nut butter at home, you're fully aware of how delicious, satisfying, and easy it is to make your own nut butters. By adding freeze-dried bananas to this walnut + pecan butter, we get a flavor reminiscent of my Banana Nut Muffins, which is exactly what I was going for. And this banana nut butter spread on top of those muffins? Well that's just utter banana perfection. The walnuts and pecans blend into the most drippy, creamy nut butter ever…maybe one of the drippiest combos I've tried!
Since they're both fatty, oily nuts, they blend up very quickly and easily. Once they're blended into smooth, nutty oblivion, the flavor is amped up with the freeze-dried bananas, cinnamon, vanilla bean powder, and salt. I give my recommended amounts, but you can always adjust to suit your tastes.I love enjoying this banana nut butter spread on apples, with bananas (for an extra banana-y treat!), on toast, or drizzled over oatmeal, hot cereal, nice cream, and smoothie bowls. Once you give it a taste, I'm sure you won't be hard-pressed to find ways to use it up. Get to nut butter making, and enjoy!
Ingredients:
2 1/4 cups raw walnuts
1 cup raw pecans
3/4 cup freeze dried bananas
1 teaspoon cinnamon
1/2 teaspoon vanilla bean powder
1/4 teaspoon kosher salt
1/4 cup cacao nibs