Apple Fritters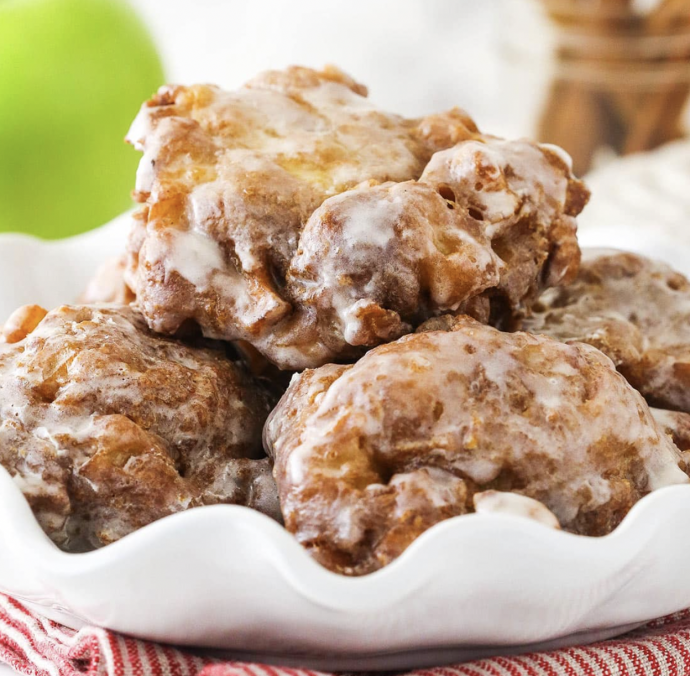 These easy homemade Apple Fritters are laced with warm, cozy spices and coated in sweet vanilla glaze. Crispy on the outside and fluffy on the inside, they literally melt in your mouth!
The combination of tasty apples, comforting spices and warm, pillowy donut is just delightful. When I tested and refined this recipe, I found that a slightly thicker batter gave me the results I was after. A thinner batter made the fritters feel more like funnel cake. While I love a good funnel cake, a fritter is a donut, so it needs to have a little more structure and texture to it.
These fritters definitely deliver. They're not too dense or heavy, but just right. Plus, they're jam-packed with tender and delicious apples!
Ingredients:
For the Apple Fritters
1 1/2 cups (195g) all-purpose flour
3 tbsp (39g) sugar
2 1/2 tsp baking powder
1 1/2 tsp ground cinnamon
1/4 tsp ground nutmeg
1 tsp salt
6 tbsp (80mL) milk
2 large eggs
2 tsp vanilla extract
1/4 cup (56g) unsalted Challenge Butter
4 1/2 cups chopped Granny Smith apples, peeled and cored (about 3–4 large apples)
Vegetable oil, for frying
For the Glaze
2 cups (230g) powdered sugar
1/2 tsp vanilla extract
3–6 tbsp heavy cream or milk