Rosemary Olive No-Knead Bread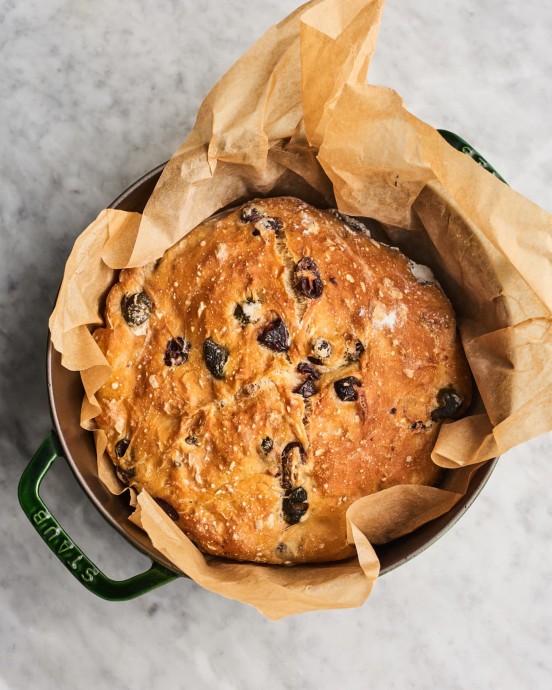 No-knead bread is just the kind of baking we all need: effortless in preparation and incredibly satisfactory in the results. For a basic no-knead dough, you simply mix up flour, water, salt, and yeast, then let the whole thing rest for hours (or overnight) while time does all the work. But to really make a loaf that rivals your favorite bakery, I like to turn things up a notch and add some mix-ins — anything from cheese to jalapeño to dried fruit.
This rosemary olive loaf is one of my favorite riffs on classic no-knead bread. It's packed with briny flavor and bite, thanks to both olives and a chopped shallot folded into the dough, and the addition of rosemary will make your house smell like a holiday (in the best way). No-knead bread is pretty forgiving when it comes to add-ins, but having a plan is helpful for both ensuring the bread rises and that it's as flavorful as possible. For olive bread, adding two kinds of olives during the first stage of mixing will pack it with maximum olive flavor. After the first round of resting the shaggy dough, you'll fold in the rosemary and shallot that make this bread so fragrant.
Ingredients:
3 cups all-purpose flour, plus more for shaping
1 teaspoon kosher salt
3/4 teaspoon active dry yeast
1 cup Kalamata olives
1/2 cup Calvestrano olives
1 1/2 cups warm water
1 large shallot
1 tablespoon finely chopped fresh rosemary leaves