Turkey Salad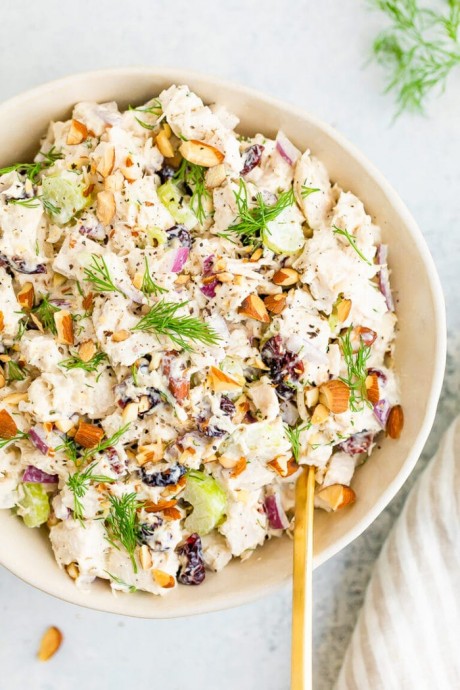 This lightened-up turkey salad with celery, onion, dried cranberries and almonds is the perfect recipe to make with leftover turkey. I have plenty of protein-packed salads (like this curried avocado egg salad and my almond butter chicken salad, but for some reason I've never shared a turkey salad. Now seems like the perfect time because this tasty salad can be made with your turkey leftovers from Christmas. There's only so many turkey, stuffing and cranberry sauce sandwiches one can eat, right?
I feel like I can't stop raving about protein salads… and for good reason! There are so many ways to enjoy this turkey salad, you could eat leftover for days! As a salad – Enjoy the turkey salad on top of a bed of greens. In a wrap – Scoop turkey salad into a lettuce wrap or traditional tortilla wrap. As a sandwich – Eat the turkey salad on regular bread, in a pita or on a croissant roll. You can add some greens (crunchy romaine works great) to the sandwich as well.
With crackers or chips – Serve with pita bread, chips or crackers for a quick, satisfying snack (or meal). This works great as a party appetizer too.
Ingredients:
4 cups chopped cooked turkey
1/2 cup diced celery (about 2 stalks)
1/2 cup diced red onion
1/2 cup dried cranberries
1/2 cup salted and roasted almonds, chopped
1/4 cup mayonnaise (I like avocado oil mayo)
1/4 cup plain Greek yogurt (I used full fat, but you could use low fat)
1 Tablespoon lemon juice
2 teaspoons dijon mustard
1/2 teaspoon ground pepper
1/4 teaspoon sea salt
1/4 cup fresh dill (parsley also works)