Oreo Fudge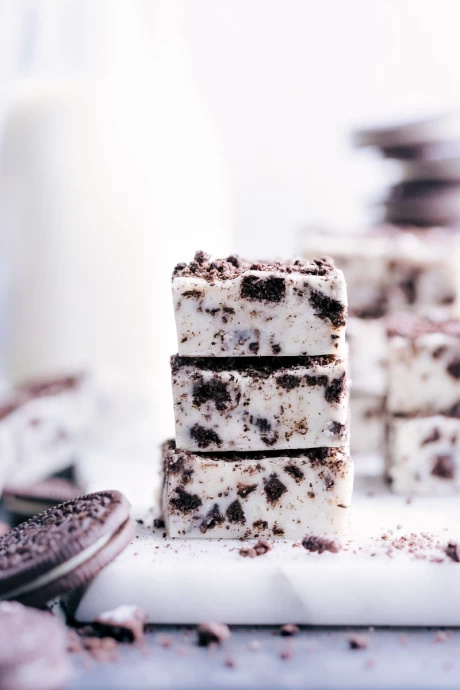 Easy one-pan Oreo Fudge starts with a decadent white chocolate base and is loaded with crushed up Oreo cookies. The white chocolate takes on the taste of the Oreo creme filling and the cookies are rippled throughout, adding a nice bit of crunch to this creamy fudge.
Simple fudge recipes are the best, especially during the craziness of the holidays! While I do love white chocolate, it's not my first pick– but in this fudge it is divine. It tastes like the creme filling of an Oreo cookie and even with the crunchy cookies rippled throughout the fudge, this fudge practically melts in your mouth. For the Oreos cookie addition, there is no need to remove the cream filling! Chop up the whole Oreos with a sharp knife (serrated if you have one). Avoid blending or chopping the Oreos too finely, because the chunks of cookie give this fudge such a great texture!
It's got the perfect contrast of flavors with the chocolatey cookies and the white chocolate chips. It's sweet, rich, and a unique holiday treat.
Ingredients:
4 tablespoons (56.5g) unsalted butter
3 cups (500g) white chocolate chips highest quality possible (See Note 1)
1/4 teaspoon fine sea salt
1 can (14 oz.; 396g) sweetened condensed milk (full-fat, NOT evaporated milk)
1 teaspoon pure vanilla extract
2 cups (185g) coarsely chopped Oreo cookies (~16 full Oreos)
2 additional crushed Oreos for topping, optional