Holiday Drinks: Peppermint Mocha, London Fog Tea Latte & Salted Cashew Hot Chocolate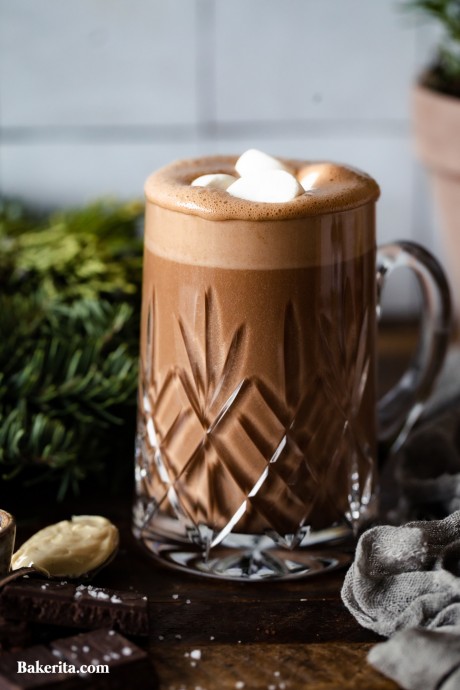 Time for all the warm drinks: can I offer you a Peppermint Mocha, London Fog Tea Latte, or a Salted Cashew Hot Chocolate? It's a cold winter day – maybe it's snowing outside, or you can hear the pitter-patter of rain against your roof as you snuggle in your blankets. If you're lucky, maybe you're next to a roaring fireplace, too. What would make things better? A hot, cozy drink. Always. There's nothing I love more than the feeling of my hands being warmed around a mug by warm cocoa, a tea latte, or a special coffee on a chilly morning or starry night. It perfectly embodies the coziness we all crave during these darker winter months.
Whichever drink you pick, I hope it makes your day better, your heart happy, and warms you from the inside out! Or, maybe you'll have the peppermint mocha in the morning, London fog tea latte in the afternoon, and salted cashew hot chocolate for dessert!
Ingredients:
for the peppermint mocha
12 ounces brewed Mushroom Ground Coffee
4 ounces dairy-free milk of choice
1 ounce Crunchy Mint Dark Chocolate
¼ teaspoon Peppermint Flavor
Maple Syrup, to taste
for the London fog tea latte
8 oz. dairy-free milk of choice
1 tablespoon Tao of Tea Organic Earl Grey Tea, brewed in 1 cup of hot water. Add more depending on how strong you like your tea – you want it dark and strong for this recipe since it will be diluted with milk
1 teaspoon Vanilla Extract
Maple Syrup, to taste, I like about 1 tablespoon
for the salted cashew hot chocolate
16 ounces dairy-free milk of choice
1.5 ounces Hu Kitchen Salty Dark Chocolate OR 1-2 tablespoons Maple Syrup and 3 tablespoons Cacao Powder
1 tablespoon Cashew Butter
Pinch of sea salt