Greek Lemon Chicken and Potatoes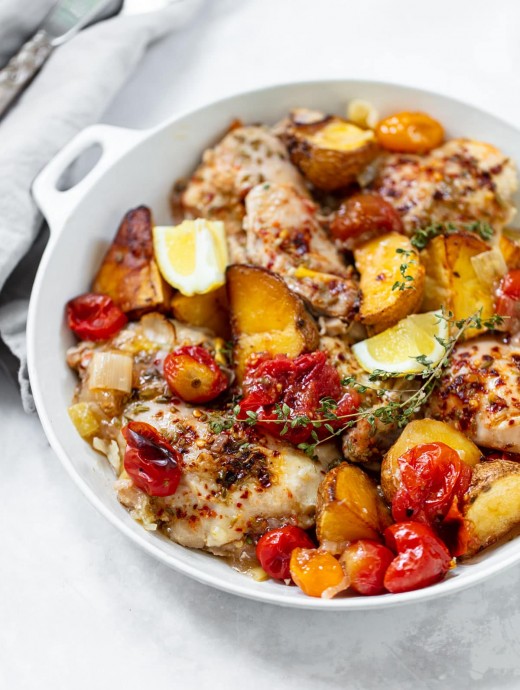 Weeknight Greek lemon chicken with potatoes is an easy and delicious recipe. You're going to love how tasty this is! Boneless chicken thighs bake in the oven with cherry tomatoes, seasoning and crusty lemony potatoes. Imagine this: It's dinner time and everyone is hungry. That's when a simple back-up plan (this recipe) comes to the rescue. Turn on the oven, slice some potatoes and assemble the rest of the ingredients and seasonings on a sheet pan and one baking dish.
Slide everything in the hot oven, then go and put on some comfy clothes. An hour later dinner is ready and your house smells delicious! This baked chicken and potatoes is the ultimate family pleaser, a one dish dinner with tender chicken, lots of tangy sauce and big chunks of lemony roasted potatoes. There's probably no better way to make everyone in your house feel nourished and cared-for – including you or whoever is cooking!
All the flavors came together so perfectly: Lemon, olive oil and oregano-seasoned crusty potatoes, and aromatic fennel seed, tomato, and tangy white-wine pan sauce with the chicken. The chicken and potatoes make a satisfying plate.You can also sprinkle the dish with crumbled feta cheese, fresh Italian parsley or chopped thyme. Fresh grated lemon zest is a simple touch that will add even more flavor.
Ingredients:
LEMON POTATOES:
3 pounds (1.36 kg) yellow potatoes, such as Yukon Gold, quartered
1/3 cup (75 ml) chicken stock or water
1/2 cup (125 ml) fresh lemon juice, about 4 large lemons
1/2 cup (125 ml) olive oil
1 tablespoon kosher salt or 2 teaspoons table salt
2 tablespoons dried oregano
GREEK CHICKEN:
1 leek, white and light green sections sliced
1 shallot, chopped
2 1/2 pounds (1.25 k) boneless skinless chicken thighs, (6-8 pieces)
Kosher salt
1/4 cup (60 ml) dry white wine, or lemon juice
2 tablespoons extra-virgin olive oil
1 pint (300 g) cherry tomatoes
1 teaspoon ground fennel seed
1/2 teaspoon crushed red chili
Optional for serving: Chopped Italian parsley, freshly ground black pepper and crumbled feta cheese.