Cheesy Broccoli Potato Soup with Bacon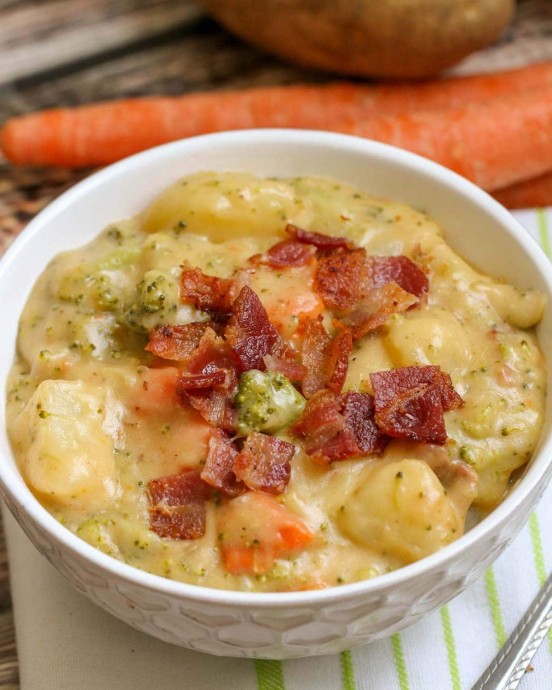 This Thick And Creamy Soup Is Full Of Delicious Vegetables Including Broccoli, Potatoes, And Carrots, Plus Lots Of Cheese And Delicious Seasonings. Loaded Broccoli Potato Cheese Soup Is The Ultimate Cheesy Broccoli Soup Recipe. Soups are an obsession this time of year! I make them so often that you could almost call it a hobby. I think I enjoy them so much because they remind me of weather cooling down and holidays approaching.
It wasn't too long ago that I spotted a recipe on Pinterest from Mel's Kitchen Cafe that I knew I had to try. It's called Loaded Broccoli Potato Cheese Soup. The name alone makes you want to try it, right?! I knew that if it was anything like our classic Broccoli Cheese Soup, but with bacon and potatoes, then it would be amazing! When you know it has broccoli, cheese and potatoes you know it's going to taste great and let me tell you – IT DID!! It was so hearty and delicious that I think the hubby sneaked a few bowls. I may have too. The soup ends up pretty thick making it almost a chowder, but it can be made more soup-y by adding more broth or milk, which is how we prefer it. If you love flavorful soups then you'll definitely want to try this one. Broccoli and Cheese Soups are always good but with the potatoes and extra bacon, this soup is too good to be true!
Ingredients:
2 14.5 oz cans chicken broth
2-3 large carrots peeled and diced
4 medium potatoes peeled and cubed into small pieces
1 tsp onion powder
2 small heads broccoli washed and diced small
3 TB butter
1/3 c flour
3 1/2 c milk
4 c shredded cheddar cheese
1 tsp salt
1/2 tsp garlic pepper
6 slices bacon cooked and chopped