Classic Linzer Cookies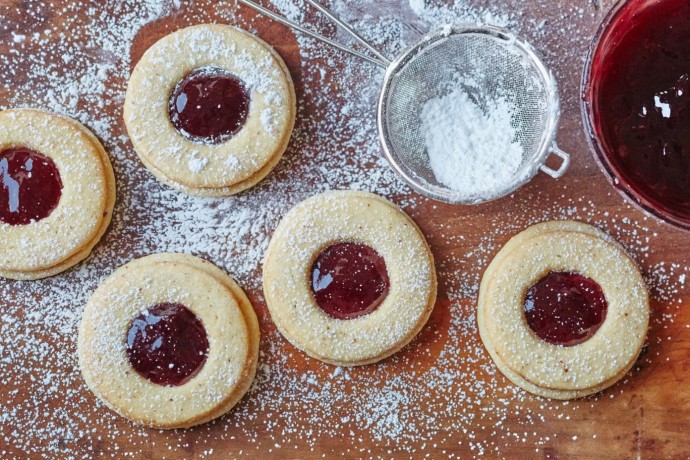 This is the cookie version of the Austrian dessert Linzertorte. Born in the City of Linz, the tart consists of a crust made from flour and ground nuts — traditionally almonds — filled with black currant preserves and topped with a lattice crust. Linzer cookies mimic the torte with their almond flour dough and fruit jam filling.Linzer cookies might look like another pretty sandwich cookie, but these sweet-tart cookies have a rich, tender crumb, thanks to a nearly invisible ingredient.
Almonds turned into almond flour make an everyday sugar cookie dough a tender, melt-in-your-mouth treat, fragrant with the warm notes of toasted nuts. Two cookies serve as the bookends to the sweet and sticky jam of your choice to transform into a holiday cookie made for customization. So if you can toast some nuts and roll out a cookie dough, you can easily turn out these stunning cookies like a holiday baking pro.
Ingredients:
1/2 cup whole, skin-on almonds
2 1/4 cups all-purpose flour, divided
1/2 teaspoon salt
2 sticks (8 ounces) unsalted butter, at room temperature
1 cup granulated sugar
1 large egg
1 teaspoon vanilla extract
1/2 cup seedless raspberry jam
1/2 cup powdered sugar