English Muffin Breakfast Casserole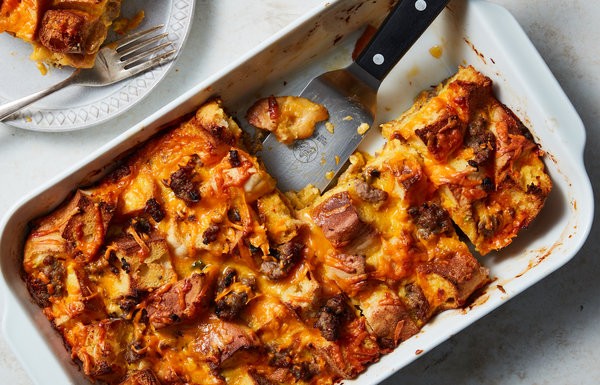 A hearty breakfast doesn't have to take a ton of time or wipe out your kitchen in the process. This Breakfast Casserole is a delicious way to ensure a cheesy filling breakfast, but the work happens the night before. It uses regular or gluten-free English muffins!
This easy, make-ahead casserole makes creative use of classic breakfast ingredients like eggs, sausage, Cheddar cheese and English muffins. It's a perfect no-stress centerpiece for a special-occasion breakfast: Simply assemble the casserole the night before and pop it in the oven before breakfast. Just remember to make sure to toast the English muffins until they've dried out a bit, which will help them absorb the egg mixture. For a vegetarian version, use vegetarian sausage or omit it altogether.
Perfect for busy holiday weekends, when house guests are bunking in, or to give the day a filling head start!
Ingredients:
Unsalted butter, for greasing the pan
6 plain English muffins
2 tablespoons olive oil
1 pound bulk hot or sweet breakfast sausage or Italian sausage
½ cup thinly sliced scallions, white and green parts (about 3 scallions)
Kosher salt and black pepper
12 large eggs
2 ½ cups whole milk
2 cups shredded sharp Cheddar cheese, lightly packed (about 8 ounces)