Dragon Rolls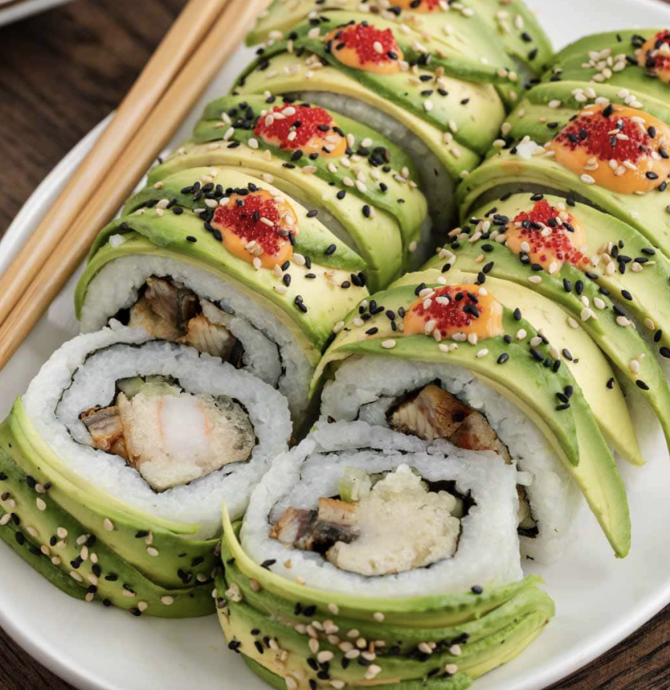 Embark on a flavorful culinary adventure with Dragon Rolls. These delectable sushi rolls feature a combination of shrimp tempura, avocado, and cucumber, all wrapped in nori seaweed and sticky rice. The rolls are then drizzled with a creamy and tangy eel sauce, creating a perfect balance of flavors. With their eye-catching presentation and delightful taste, Dragon Rolls are a must-try for sushi enthusiasts and those looking to expand their palate.
Ingredients:
Sushi Rice:
4 cups water
2 cups uncooked white rice
½ cup seasoned rice vinegar
1 teaspoon white sugar
1 teaspoon salt
Dragon Roll:
5 sheets nori , dry seaweed
1 English cucumber , peeled, de-seeded and cut into thin strips
toasted white sesame seeds
spicy mayo
Shrimp Tempura:
10 shrimp , tail removed and deveined (16-20 count)
6 ounces unagi , optional
1 1/2 cups flour
3/4 cup cornstarch
1 1/2 tablespoons baking powder
1 1/2 cups cold club soda
1/2 teaspoon kosher salt
1/4 teaspoon white pepper
canola oil for frying
To finish:
1 avocado , pitted and very thinly sliced
spicy mayo
1/2 cup tobiko
1 teaspoon white sesame seeds
1/2 teaspoon black sesame seeds
To Serve:
pickled ginger , for garnish.
low sodium soy sauce
wasabi paste