Street Corn Chicken Salad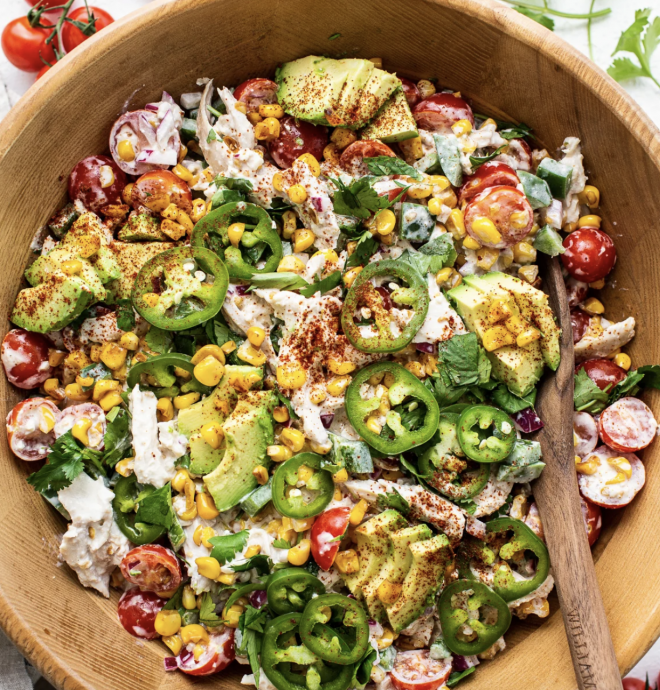 One up your chicken salad game with this yummy street corn chicken salad recipe made with shredded chicken and ingredients from street corn salad!
Not only is this street corn chicken salad a fun, festive chicken salad recipe, but it's so flavorful and great meal prep too!
We love making chicken salad at the beginning of the week for an easy grab-and-go lunch and this recipe is no exception.
Made with shredded chicken, tons of veggies, corn, and a street corn sauce, you are going to swap classic for street corn chicken salad year-round!
Ingredients:
Pickled Jalapeños
2-4 tablespoons white vinegar*
½ teaspoon salt
1 jalapeno thinly sliced
Salad
2 cups halved cherry tomatoes
1 green bell pepper diced
½ large red onion minced
3 tablespoons red wine vinegar
1 teaspoon coarse salt
1 lb. cooked shredded chicken ~4 cups
Corn
2 tablespoons olive oil
20 oz. frozen corn thawed
¾ teaspoon coarse salt
Sauce
1 cup full-fat Greek yogurt
¼ cup mayo
2 oz. cotija cheese crumbled
3 tablespoons fresh lime juice
1 tablespoon white wine vinegar
½ teaspoon coarse salt
¼ teaspoon paprika
Other Ingredients
1 large avocado pitted and diced
½ cup fresh chopped cilantro