Lentil Soup With Spinach and Spicy Sausage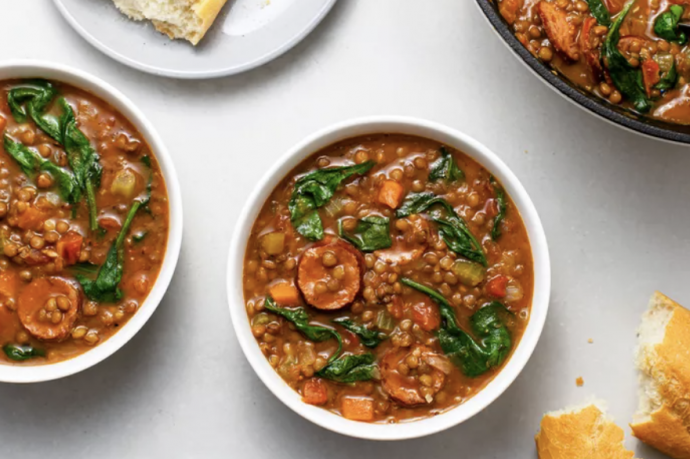 This delicious lentil soup is made with spicy smoked sausage and spinach, along with a Cajun or Creole seasoning blend and diced tomatoes. The soup is a wonderful combination of ingredients.
If you cannot find andouille, use another smoked sausage. For a lighter soup, consider using chicken or turkey smoked sausage, or kielbasa. The recipe also works with leftover diced ham.
This lentil soup cooks relatively quickly on the stovetop. If you prefer a soup that cooks all day in the slow cooker, take a look at this crock pot lentil soup with bacon.
Enjoy the soup with freshly baked cornbread or Southern buttermilk biscuits. Or serve it with a crusty baguette.
Ingredients
1 tablespoon olive oil
1 cup chopped onions
1 rib celery, diced
1 large carrot, diced
8 to 12 ounces spicy andouille sausage, thinly sliced
1 large clove garlic, minced
1 cup lentils, rinsed
1 teaspoon Cajun or Creole seasoning blend
1 dash cayenne pepper, or to taste
1/2 teaspoon dried leaf thyme
1/4 teaspoon freshly ground black pepper
5 cups chicken broth
1 (14.5-ounce) can diced tomatoes
Salt, to taste
6 to 8 ounces chopped fresh spinach