Thai Meatball Peanut Satay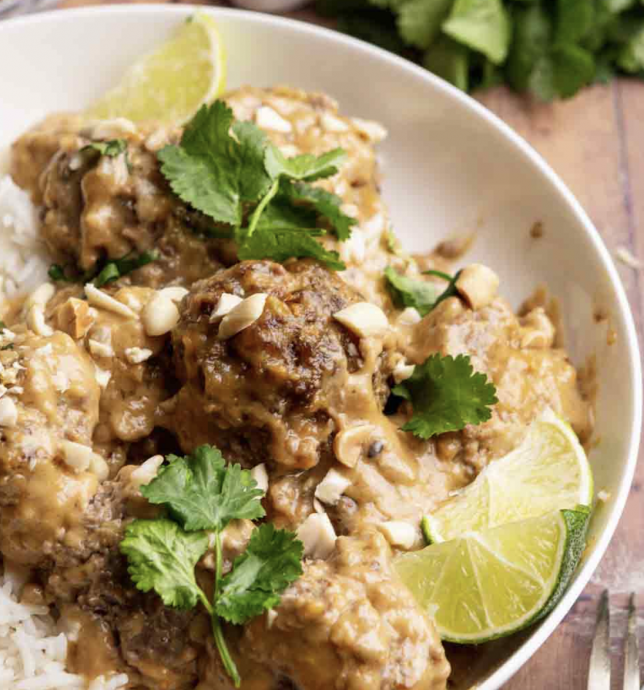 Thai Meatball Peanut Satay is a juicy homemade meatballs recipe served with a rich, creamy peanut butter sauce and crunchy peanut topping.
Store: Don't leave Peanut Satay Meatballs at room temperature for more than 2 hours. If you have leftovers, you can put the meatballs and peanut sauce in an airtight container and store in the fridge for 3-4 days.
Reheat: Reheat the meatballs on a baking sheet in the oven at 350 degrees until heated through. To keep them from drying out, you can place them in a small baking dish and add a tablespoon of broth then cover with foil and reheat in the oven.
Freeze: You can keep cooked meatballs without the sauce in the freezer for 3 months in an airtight container. Reheat frozen meatballs without thawing first, or let them thaw overnight in the fridge first.
Ingredients:
Meatball Recipe:
3 slices bread
1/3 cup whole milk
1/2 yellow onion , minced
3 tablespoons unsalted butter , divided
2 pounds ground beef , (80/20)
2 large eggs
3 cloves garlic , minced
1 teaspoon kosher salt
1/2 teaspoon cracked black pepper
1 teaspoon Worcestershire Sauce
Peanut butter Sauce:
1/2 can coconut milk , 7 ounces
1/3 cup creamy peanut butter
2 tablespoons low-sodium soy sauce
2 tablespoons honey
1 tablespoon rice wine vinegar
1 tablespoon lime juice
1/2 teaspoon sesame oil
3 cloves garlic , minced
1 tablespoon ginger , minced
1/4 cup peanuts , chopped
1/4 cup cilantro , chopped