Artichoke Gruyere Dip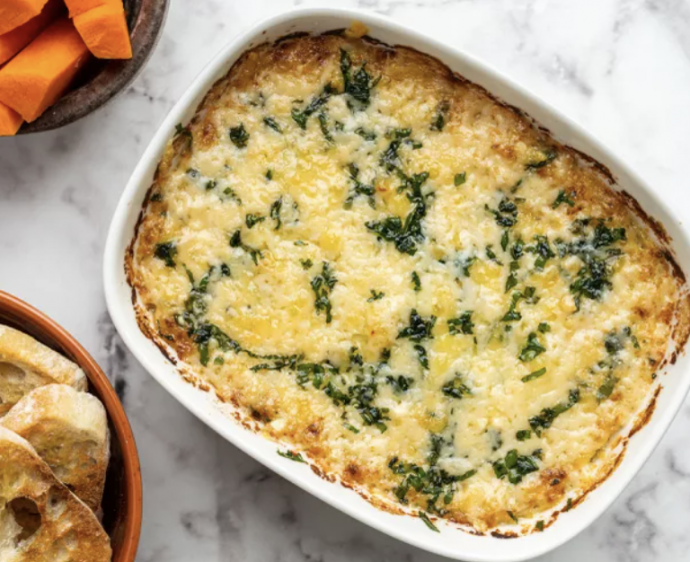 This artichoke Gruyere dip is a classic appetizer with many variations. This recipe is simple and fast and lets the rich flavor of Gruyere cheese shine through. The dip is lighter than some, with less mayonnaise weighing it down.
Canned vs. Jarred Artichoke Hearts
Use a brand of artichoke hearts you've tried and like for this recipe. Sometimes, canned artichoke hearts can have a metallic flavor and the texture can be mushy, so we prefer to stick with artichoke hearts sold in glass jars.
Jarred artichoke hearts are sold both plain and marinated. We prefer the plain artichokes, as marinated artichoke hearts can have a sharp vinegar flavor and we don't always love the added seasonings. If you can only find marinated artichoke hearts, they can be rinsed in water to remove some of the vinegar flavors.
Frozen artichoke hearts can be a good option as well, especially for dips like this. Frozen artichoke hearts can be mushy when defrosted, but that doesn't matter as much when they're chopped up into a warm dip like this.
Gruyere Substitutions
Instead of Gruyere, other types of similar cheeses can be used. Try Appenzeller, Comte, Fontina Val D'Aosta or another type of Alpine cheese. Parmigiano-Reggiano is also a good option. Or, instead of using just one cheese, try combing several different types of cheese.
Ingredients
1 (14-ounce) can or jar artichoke hearts packed in water, drained
1/4 cup plain Greek yogurt or sour cream (low or non-fat may be used, but full-fat tastes better)
1 tablespoon mayonnaise
Dash cayenne pepper
1 cup grated Gruyere cheese, divided
1 tablespoon finely chopped fresh basil or parsley, optional