S'Mores Cookie Cups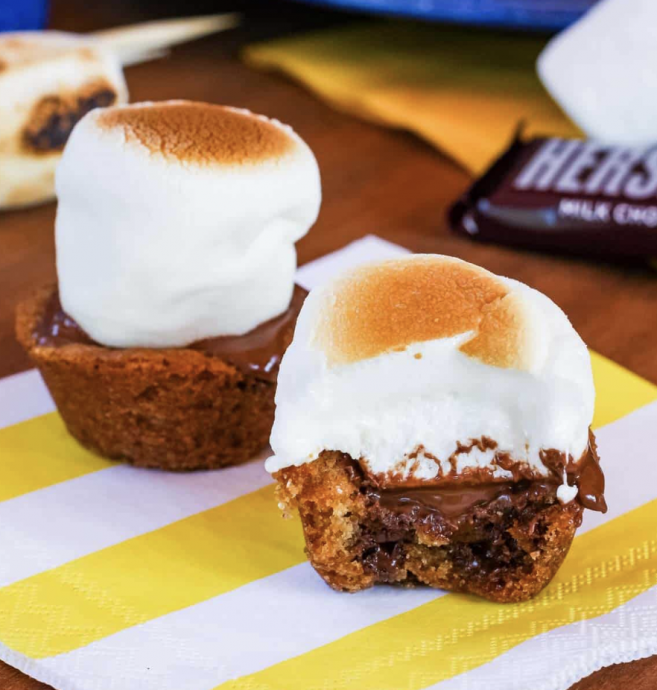 Serving up the familiar melty, sticky goodness without the mess, S'Mores Cookie Cups put an easy but sophisticated spin on a timeless campfire snack. Add the warm and chocolate-studded charm of the classic chocolate chip cookie and you have a match made in heaven.
It's true that part of the s'more's charm is the perfectly toasted marshmallow and melty chocolate square oozing out from between two graham crackers. But that sticky mess should stay outside along with the sticks, dirt, and open flames. If you want to take the s'mores into the house with you, you're going to need a way to minimize the mess.
These s'mores cookie cups combine the joy of sinking your teeth into a hot, fresh s'more with the comforting taste of a fresh-baked chocolate chip cookie. You can still enjoy the ooey-gooey toasted marshmallow and softened chocolate. It's just a little more contained. And it doesn't hurt that the container is just as moist and sweet as what's inside it.
Ingredients:
half a batch of Gluten Free Chocolate Chip Cookie Cups or 1package of regular or gluten-free chocolate chip cookie dough (You will need about 1½ cups or enough for about 24 cookies)
24 miniature Hershey's milk chocolate bars or 2 regular size (1.55 oz.) Hershey's milk chocolate candy bars split into the 24 individual rectangles
24 large marshmallows