Cookie Dough Pops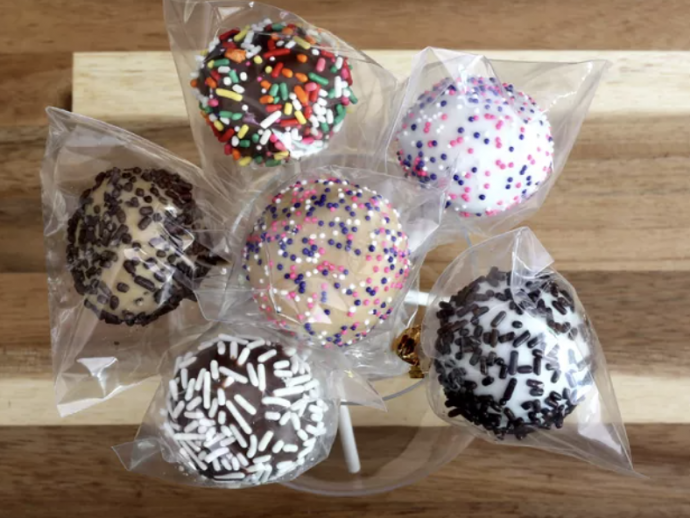 These cookie dough pops make a fun and tasty no-bake treat. They're easier to make than cake pops, satisfy that cookie dough craving, and make adorable party favors for birthdays and other special occasions. You can easily customize the look and flavor using different candy coatings and decorations.
While this edible cookie dough does not contain eggs, you'll want to heat treat the flour before mixing it up to kill any bacteria. It only takes a few minutes in the oven or microwave, just let it cool before making the dough. We recommend dipping the lollipop sticks in melted candy coating, inserting them into the cookie dough balls, and freezing before dipping. This will ensure that the balls stay firmly on the sticks. A piece of styrofoam is handy if you want your cookie dough pops to look perfectly round and professional.
These cookie dough pops are fun to make with kids since there's no baking involved. Provide different options for decorating like sprinkles, nuts, and colored sugar.
Ingredients
1 1/4 cups all-purpose flour
3/4 cup light brown sugar, packed
4 ounces (1/2 cup) unsalted butter, softened
1 tablespoon milk
1 teaspoon pure vanilla extract
1/2 teaspoon salt
1/2 cup mini semisweet chocolate chips
1 (12-ounce) package chocolate candy melts, for coating, any color or flavor
Sprinkles, optional
Finely chopped nuts, optional
Colored sugars, optional