Healthy Blue Cheese Bacon Potato Salad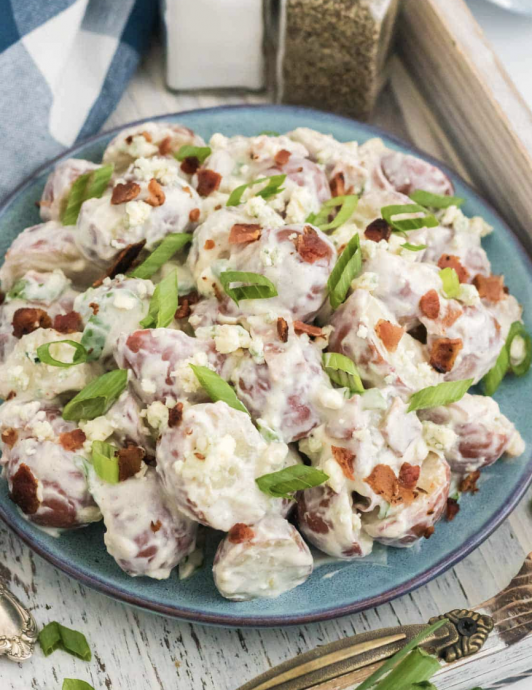 Lighten up your next barbecue with this Healthy Blue Cheese Bacon Potato Salad! Swap the mayo for Greek yogurt, add just enough sharp blue cheese and salty bacon for flavor, and you get an easy summer side dish that'll disappear fast.
Potatoes get a bad rap. Perhaps that's because most of the time we eat them fried, covered with cheese, or mashed with copious (admittedly delicious) amounts of butter and cream.
Away from all the bad influences, however, one medium-sized potato has only 110 calories, zero fat, more potassium than a banana, two grams of fiber, and half your daily value of vitamin C! All this to say: potatoes can definitely be part of a healthy diet.
Which is a good thing, because everyone in my family goes nuts over potato salad. This healthier, no-mayo potato salad recipe uses plain Greek yogurt in place of mayonnaise, amped up with just the right amount of blue cheese and lean bacon for flavor. I've honestly never had a potato salad hit the palate in so many ways in just one bite!
Ingredients:
2 lbs. red potatoes small sized, quartered
3-4 slices bacon (center cut)
1/2 cup plain Greek yogurt fat free or low fat
3 Tablespoons apple cider vinegar
1/4 teaspoon dry mustard
1 pinch cayenne pepper
1/2 teaspoon kosher salt
black pepper freshly ground, to taste
1 Tablsppoon chopped scallions
1/2 cup crumbled blue cheese,