French Onion Stuffed Meatloaf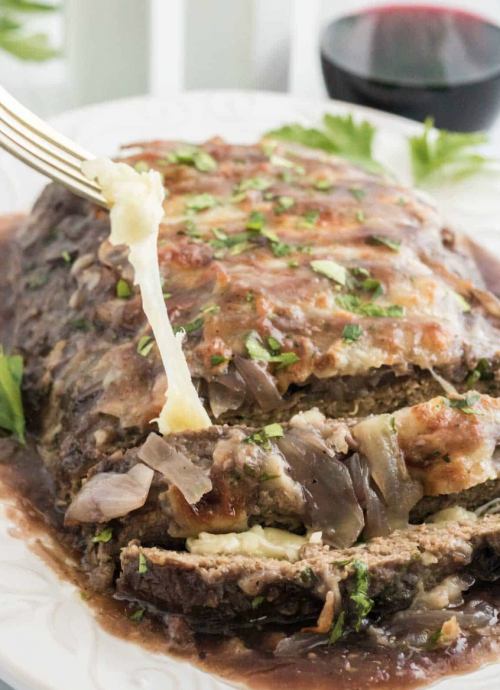 Oozing with gooey mozzarella cheese and rich caramelized onions, this easy Stuffed Meatloaf combines your favorite comfort foods into one amazing dinner. It's topped with even more cheese and a sumptuous red wine meatloaf sauce!
French onion soup is one of my all-time favorite comfort foods. Put a steaming bowl of it in front of me along with a grilled cheese sandwich for dipping, and I'm happy as can be. My mouth waters just thinking about the cozy beef broth and the sweet, buttery caramelized onions mingling with the gooey mozzarella cheese.
This easy recipe takes all of that French-style goodness and stuffs it into a tender homemade meatloaf! It's a comfort food mash-up that will have everyone sprinting toward the kitchen to claim their slice. With a soup-inspired gravy sauce drizzled on top in company with more caramelized onions and golden-brown cheese, I dare you not to drool over this meatloaf.
Ingredients:
For the Caramelized Onions
1 Tablespoon olive oil
3 onions halved and thinly sliced
½ Tablespoon fresh thyme or ½ teaspoon dried thyme
1 teaspoon kosher salt
½ teaspoon pepper
¼ cup beef broth
¼ cup red wine I used Gallo Family Cabernet Sauvignon, but Pinot Noir or Merlot would also work nicely
For the Meatloaf
2 lbs lean ground beef
1/2 cup bread crumbs or instant or slightly ground oats gluten free, if needed
2 Tablespoons minced fresh parsley
1 teaspoon pepper
1 teaspoon kosher salt
2 eggs lightly beaten
8 oz mozzarella cheese shredded, divided
Fresh chopped parsley for garnish optional
For the Sauce
2 1/2 cups beef broth
1/2 cup red wine I used Gallo Family Cabernet Sauvignon, but Pinot Noir or Merlot would also be good
3 Tablespoons cornstarch
salt & pepper to taste