Tom Yum Fried Rice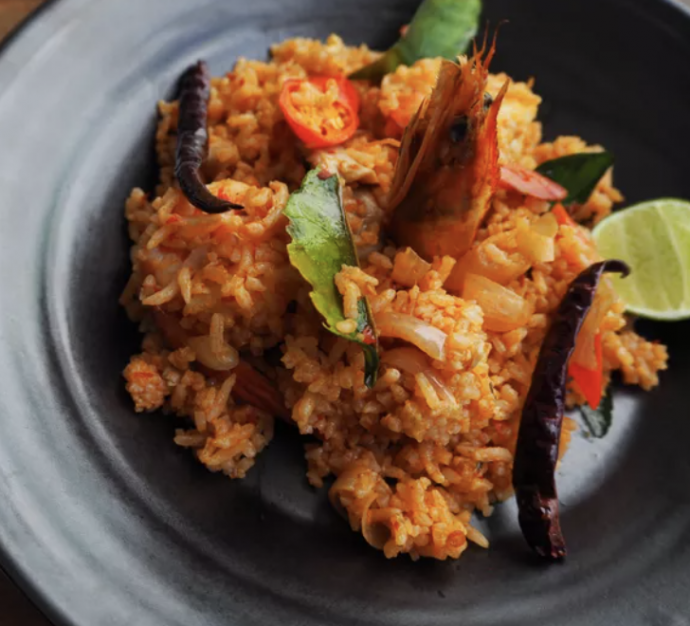 Tom yum is a popular sour and spicy soup that you can easily find in Thai restaurants all over the world. Galangal, lemongrass, and makrut lime leaves are what give this soup its fragrant and distinct aroma.
With this fried rice version, we use all the aromatics that are used in tom yum soup and turn it into a punchy rice dish that is perfect for lunch or dinner. Feel free to substitute shrimp for any seafood or poultry that you prefer, or make a vegetarian version of this dish and add your favorite seasonal vegetables.
In Thai cooking, the herbs are typically left in the dishes even if they are not supposed to be eaten, so remember to avoid the galangal, lemongrass, and makrut lime leaves when you take a bite. The herbs are added in thin slices, and would still give you quite a pungent mouthful if you chewed on it.
Ingredients:
2 tablespoons vegetable oil
3 inches galangal, sliced
3 inches lemongrass stalk, sliced
1/2 cup mushrooms, sliced
10 medium shrimp, peeled and deveined
1 3/4 cups cooked rice
1 tomato, chopped
1 to 2 Thai chiles (to taste)
2 tablespoons lime juice
1 tablespoon fish sauce
1 tablespoon soy sauce
1 teaspoon sugar
1 teaspoon chili paste