Red White & Blue Brownie Bites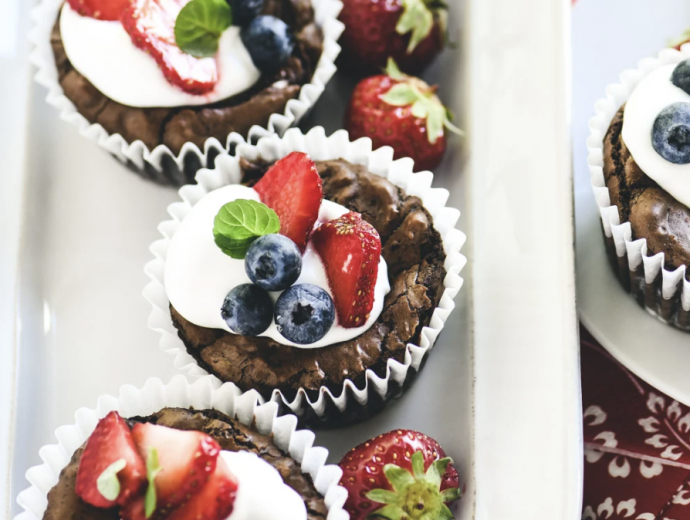 Individual brownie muffins topped with whipped cream and berries is a winning combination.
The best fudgy brownies baked up in a muffin pan with a crackly top and a moist chocolatey interior. They puff up as they bake, and sink down as they cool to form the perfect little spot for ripe summer berries. Whipped cream seals the deal as the best 4th of July dessert ever.
You'd be hard pressed to find a summer berry that doesn't fit the red white and blue theme, so go with what's available. Raspberries and blackberries, currants, they'll all work.
Ingredients:
1/2 cup unsalted butter
12 ounces dark chocolate chips (also use semi sweet or bittersweet)
1 cup granulated sugar (plus 1 teaspoon for the strawberries)
1/4 cup brown sugar
3 large eggs
2 tsp vanilla extract
3/4 cup all purpose flour
1/2 tsp salt
1/4 cup unsweetened cocoa powder
1/2 cup mini semi sweet chocolate chips
1 cup sweetened whipped cream
8 strawberries, trimmed and sliced
blueberries
mint leaves, optional