Teriyaki Chicken Thighs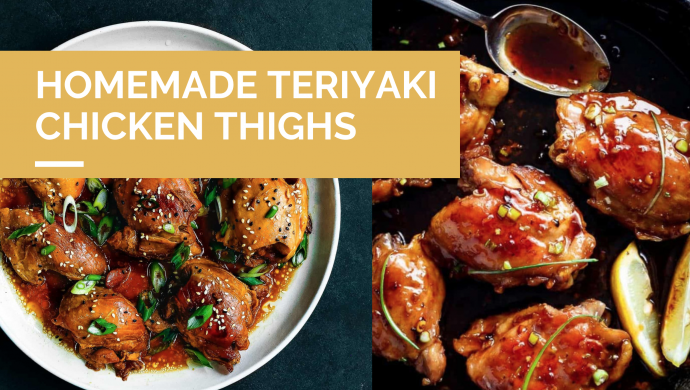 Teriyaki is a versatile Japanese sweet and savory sauce. It is perfect for pairing with a variety of dishes and adds a burst of flavor and shine to these baked teriyaki chicken thighs. Chicken teriyaki is about as easy as whisking together a quick no-cook sauce, pouring it over some chicken in a pan, and sliding it in the oven. The chicken comes out juicy and moist, with a beautiful mahogany glaze. Don't worry about overcooking these. With all the sauce surrounding them, they'll just get more and more tender, and there's very little danger of their drying out. Once they're baked, the thighs and their sauce can be stored in a tightly covered container or a resealable plastic bag in the refrigerator for up to a week. Reheat them briefly in the microwave, or enjoy them at room temperature.
Ingredients
½ cup soy sauce
½ cup water
1 tablespoon minced garlic
1 tablespoon minced fresh ginger
1 tablespoon dark brown sugar
1 tablespoon honey
8 chicken thighs
Directions
Step 1
Adjust the oven rack to the center position and preheat the oven to 400°F.
Step 2
In a medium bowl or a jar with a tight-fitting lid, combine the soy sauce, water, garlic, ginger, brown sugar, and honey. Whisk or shake to mix well.
Step 3
Rinse the chicken thighs under cold water, pat them dry with paper towels, and arrange them, skin side up, in a single layer in a 9-by 13-inch baking pan. Pour the sauce over the chicken. Bake in the center of the oven for 30 minutes, uncovered and undisturbed.
Step 4
A lot of liquid will have accumulated in the pan. Baste the chicken by spooning this liquid over the tops of the thighs several times, and then bake for 15 minutes longer. Baste again, and cook 15 minutes more.
Step 5
Check the internal temperature of the chicken with an instant-read thermometer inserted parallel to the bone (but not actually touching it) in one of the thighs. If it registers 170°F, the chicken is done. If not, remove the thermometer, baste again, and bake for up to 20 more minutes, checking the temperature and basting every 10 minutes or so until the thermometer reads 170°F.
Step 6
Transfer the chicken to a plate or a platter and let it rest for 5 to 10 minutes. Meanwhile, using a hot pad or an oven mitt, tip the pan and use a large spoon to skim off and discard most of the clear yellow fat that will have accumulated on the surface of the sauce.
Serve the chicken hot, warm, or at room temperature, with some sauce spooned over it. Bon appétit!
Tips
Garnish with a sprinkling of toasted sesame seeds and/or very thinly sliced scallions (including the green part).
This recipe also works well with chicken wings, which make a great party snack, appetizer, or potluck contribution.
And what is your favorite way to cook chicken? Let me know down in comments!