Strawberry Cinnamon Rolls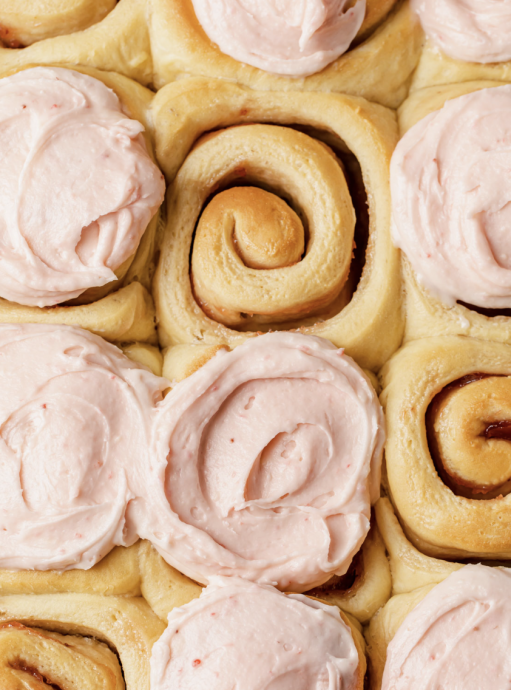 These pillowy Strawberry Cinnamon Rolls are filled with sweet strawberry jam and slathered with fresh strawberry cream cheese frosting. An extra swirl of strawberry gives them so much flavor!
The jam rolls are like a beautiful mix of flavor and texture. Chewy and soft, the buns are puffy with jam rolled in between pull-apart layers.
Real, fresh strawberries are pureed and cooked until thick to flavor the cream cheese frosting. It's sweet, it's tang, it's oh-so creamy!
The frosting makes them taste like strawberry cheesecake cinnamon rolls - who doesn't want to dive into one of those for breakfast?!
Ingredients
For the Cinnamon Rolls
2 ⅓ cup all-purpose flour divided
1 cup milk divided
2 ¼ tea dry active yeast
⅓ cup granulated sugar
2 cups bread flour
4 tablespoon unsalted butter melted
2 large eggs
1 tea kosher salt
2 tablespoon unsalted butter softened
1 cup strawberry jam
For the Strawberry Cream Cheese Frosting
1 cup diced strawberries
2 tea granulated sugar
1 tea cornstarch
4 tablespoon unsalted butter softened
4 tablespoon cream cheese
2 to 3 cups powdered sugar