Boston Cream Cupcakes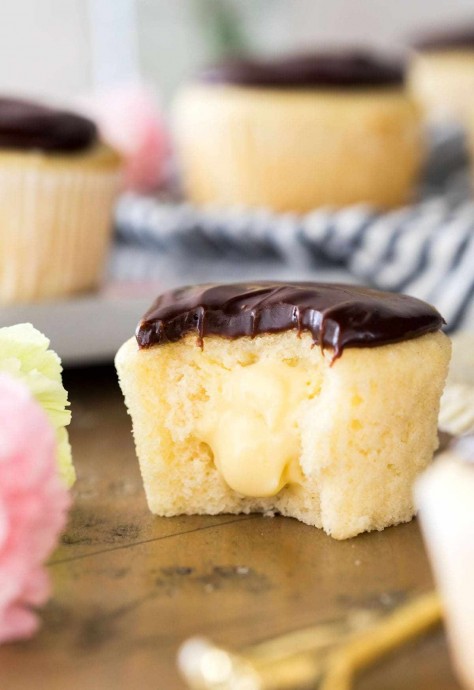 Fluffy vanilla cupcakes filled with Boston cream and topped off with a silky chocolate ganache. Made completely from scratch, this Boston Cream Cupcake recipe yields 24 cupcakes but can be cut in half.
If you've ever had a slice of Boston cream pie before, you already know that it's not actually a pie, at least not in the traditional sense. Rather than being neatly served in a pie crust, Boston cream pie is actually a vanilla cake filled with custard and topped with silky chocolate ganache.
Today's recipe is a bit more involved than some of my other cupcake recipes so to make it worth your while it yields 24 cupcakes, though you could certainly cut the recipe in half if needed (or if you don't happen to have 9 eggs lying around!).
Store in the refrigerator in an airtight container, they'll keep for 4-5 days this way. Because of the cream filling, I recommend keeping Boston cream cupcakes at room temperature for no longer than a few hours. I don't recommend freezing this recipe as the pastry cream may break down in the freezer.
Ingredients:
Pastry Cream
1 cup milk¹ 236ml
1 cup heavy cream¹ 236ml
⅓ cup (67g) + 3 Tablespoons granulated sugar divided (67g + 3 Tablespoons)
¼ teaspoon salt
5 large egg yolks² room temperature preferred
3 Tablespoons cornstarch
1 teaspoon vanilla extract
4 Tablespoons unsalted butter softened and cut into 4 pieces
Cupcakes
½ cup unsalted butter softened (113g)
½ cup canola oil or vegetable oil or other neutral oil (118ml)
1 ¾ cups granulated sugar 350g
4 large eggs
2 teaspoons vanilla extract
3 cups all-purpose flour (375g)
1 Tablespoon baking powder
¾ teaspoon salt
1 ¼ cups buttermilk room temperature preferred. (300ml)
Ganache Frosting
1 cup chocolate chips 170g
½ cup heavy cream 118ml
2 Tablespoons light corn syrup³
⅓ cup powdered sugar icing sugar(45g