Grilled Teriyaki Chicken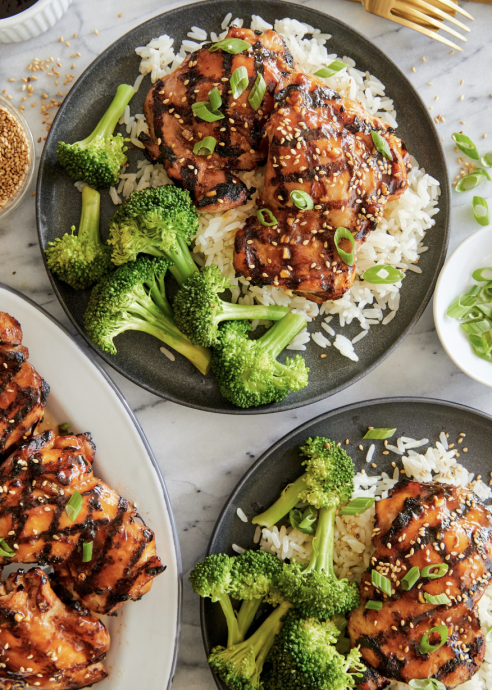 Grilled Teriyaki Chicken is a mouthwatering dish that combines the smoky flavors of grilling with the sweet and savory taste of teriyaki sauce. This popular Asian-inspired recipe is loved by many for its delicious glaze and tender, juicy chicken.
The secret to achieving the perfect Grilled Teriyaki Chicken lies in the marinade. The chicken is marinated in a delectable mixture of soy sauce, ginger, garlic, brown sugar, and other flavorful ingredients. This allows the chicken to soak up all the wonderful flavors and become incredibly tender and flavorful.
Once marinated, the chicken is then grilled to perfection, creating beautiful grill marks and a smoky aroma. The teriyaki glaze is brushed over the chicken during grilling, creating a shiny and flavorful coating that caramelizes beautifully.
Grilled Teriyaki Chicken is a versatile dish that can be served as the main course with rice or noodles, or used to make delicious sandwiches, salads, or wraps. It's perfect for a family barbecue, weeknight dinner, or any special occasion.
With its irresistible combination of flavors and easy preparation, Grilled Teriyaki Chicken is sure to become a favorite in your home. So fire up the grill and get ready to indulge in this delightful and satisfying dish!
Ingredients:
2 teaspoons cornstarch
½ cup reduced sodium soy sauce
3 tablespoons mirin
2 tablespoons brown sugar
2 tablespoons honey
1 tablespoon freshly grated ginger
3 cloves garlic, minced
2 teaspoons toasted sesame oil
2 pounds boneless, skinless chicken thighs
1 tablespoon canola oil
2 green onions, thinly sliced
1 teaspoon toasted sesame seeds