Cranberry Pistachio Shortbread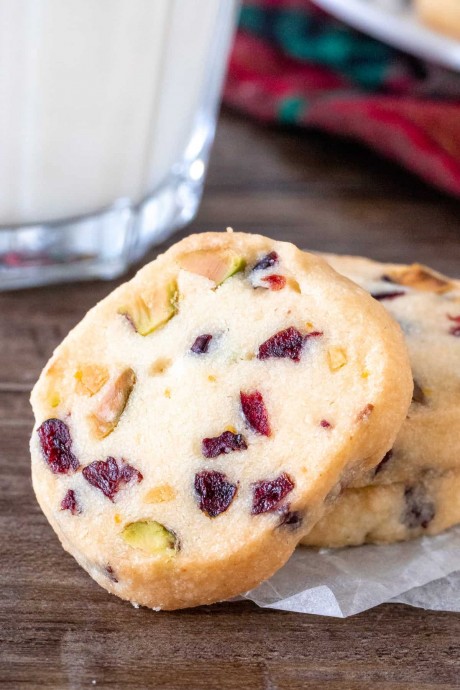 This buttery shortbread is filled with cranberries, pistachios and orange zest. It's an easy slice and bake cookie is perfect for the holidays. If you're looking for a buttery, flavorful shortbread recipe – then this cranberry pistachio shortbread is perfect. Sometimes I find shortbread can tastes bland or boring, but not these. They have a delicious crunch without being dry, and are filled with Christmas flavors thanks to fresh orange zest, tart cranberries and pistachios.
The classic, buttery shortbread flavor comes from the obvious culprit. So you really must use 100%, real butter – no substitutions here. Because butter is rich on its own, there isn't too much sugar in the recipe. Then we're using just the right amount of flour. Make sure to whisk the flour first, then spoon it into a dry measuring cup and level off the top when measuring.
What's great about this shortbread recipe is that it's a slice and bake variety. Therefore you can make the dough in advance and pop it in the fridge for up to 4 days before baking, or freeze for up to 2 months. Then thaw in the fridge overnight before baking. You'll divide the dough into 2 equal pieces, and then form each half into a log shape about 1 to 1.5 inches in diameter. It's really important to form the dough into a dense, tight log. Continue to press the dough together tightly as you form each log. You'll wrap each log in wax paper or parchment, twist the ends and then pop it in the fridge for at least 4 hours.
When you're ready to bake, simply unwrap the log and slice into cookies about 1/4 inch thick.
Ingredients:
1 cup unsalted butter softened
3/4 cup powdered sugar*
2 1/4 cup all-purpose flour* AKA plain flour - 281 grams or 9.92 ounces
1/4 teaspoon salt
1 tablespoon orange zest
3/4 cup dried cranberries chopped
3/4 cup unsalted pistachios* chopped