Chickpea Panzanella Salad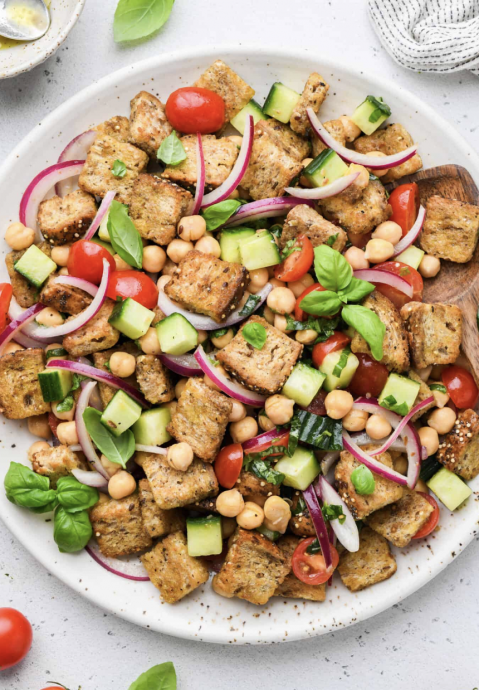 Introducing our delightful Chickpea Panzanella Salad, a vibrant and satisfying twist on the classic Italian dish. This salad bursts with Mediterranean flavors, bringing together the goodness of ripe tomatoes, crisp cucumber, and fragrant basil leaves.
The star of this ensemble is the hearty chickpeas, adding a delightful nutty flavor and a satisfying texture. Tossed with crusty bread cubes, which soak up the zesty vinaigrette, this salad becomes a delightful balance of textures and tastes.
Drizzled with a tangy vinaigrette made with olive oil, red wine vinegar, garlic, and a medley of Italian herbs, every bite is a burst of freshness. This colorful creation is not only a feast for the eyes but also a wholesome and nutritious delight.
Indulge in the harmony of flavors and textures in our Chickpea Panzanella Salad, a perfect choice for a light and flavorful meal that will leave you feeling nourished and content.
Ingredients:
PANZANELLA SALAD
3 ½ cups crusty bread, chopped into 1 inch cubes
2 tablespoons extra virgin olive oil
1 cup halved cherry tomatoes
1/4 large red onion, sliced
1 cup cubed English cucumber
2 tablespoons basil, julienned
1 1/2 cups cooked chickpeas, washed and drained, 425g
MUSTARD BALSAMIC VINAIGRETTE
1/4 cup extra virgin olive oil
1/2 tablespoon balsamic vinegar
2 teaspoons lime or lemon juice
1 teaspoon dijon mustard
pinch salt and ground black pepper