Lemon Orzo Salad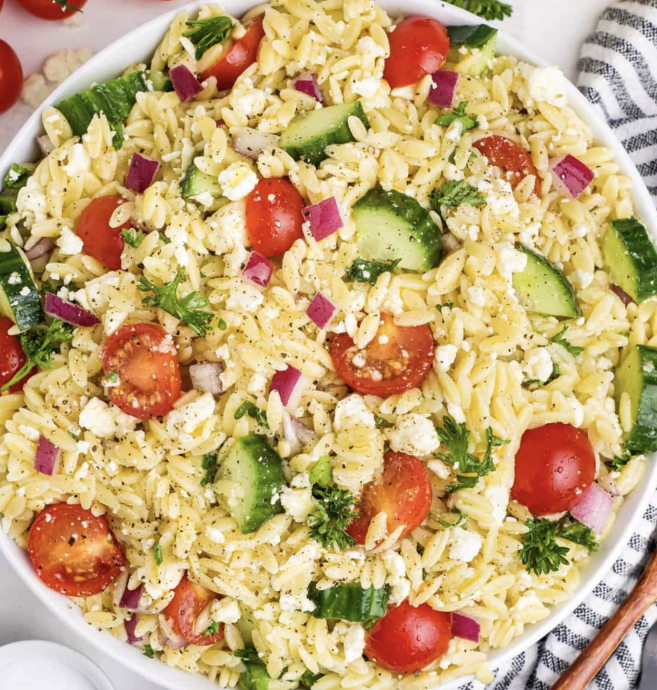 This light and easy to make lemon orzo salad is the perfect make-ahead pasta salad. Made with a tangy and slightly sweet lemon vinaigrette, this side dish is full of fresh produce like cucumbers and cherry tomatoes and packed with bold, yet simple flavors.
We're rocketing towards summer and with that comes potlucks and cookouts.
One of my favorite things to bring to those is a pasta salad. It's always a crowd-pleaser, and it's great to make ahead of time!
Except with this recipe, there's no boring ingredients or generic bottled dressing… crisp cucumbers and red onion, juicy cherry tomatoes, salty feta cheese, and a simple 4 ingredient honey lemon vinaigrette.
Ingredients:
Orzo salad
2 cups dried orzo pasta approximately 12 oz
1 cup chopped cherry tomatoes sliced in half (or quartered if they're large)
1 cup chopped cucumbers I like to use the mini cucumbers and slice them in rounds
1/2 cup chopped red onion
1/3 – 1/2 cup chopped fresh parsley
6 oz crumbled feta cheese
Honey lemon vinaigrette
1/2 cup extra virgin olive oil
1 large clove garlic pressed, grated, or very finely minced
4 Tbsp fresh lemon juice
1 Tbsp honey
1/2 tsp kosher salt
1/2 tsp black pepper